Simple Cake Smash
How is it that a baby's first year can fly by so quickly?  You know the saying, "the days are long, but the years are short"?  Well during the first year, maybe it should be "the NIGHTS are long, but the years are short"!  Regardless, a baby's first year flies by all too fast.  Lizzy was born right when the pandemic was starting.  Her newborn session got delayed until she was almost 8 weeks old.  So many things were unsure at the time, and we didn't even know if I'd be able to photograph her first year.  But here we are one year later, and I am so thankful to be able to help her celebrate her first birthday!
What is a "simple cake smash"?
All of my cake smashes are "simple", but let's not mistake that for boring.  A simple cake smash means that we don't use a busy backdrop or props.  The cake smash is simply your baby and cake.  That way the focus stays on your baby.  I love capturing everything from the tiniest details to all of your baby's facial expressions.
When planning your cake smash, the first thing to decide on is the cake.  This is where you personalize your baby's cake smash.   Do you want a naked cake?  If so we can dress it up with a cute cake topper, greenery, flowers, or fruit.  I have toppers, greenery, and flowers all at the studio.  I love accessorizing cakes!  You can also choose a themed cake.  I have an inspiration board on Pinterest with themed cakes for one-year sessions.  If you choose this style of cake, we won't accessorize it.  We will just use one of my many cake stands.  Once you come to the studio, we will select the perfect cake stand and outfit from the Studio Closet.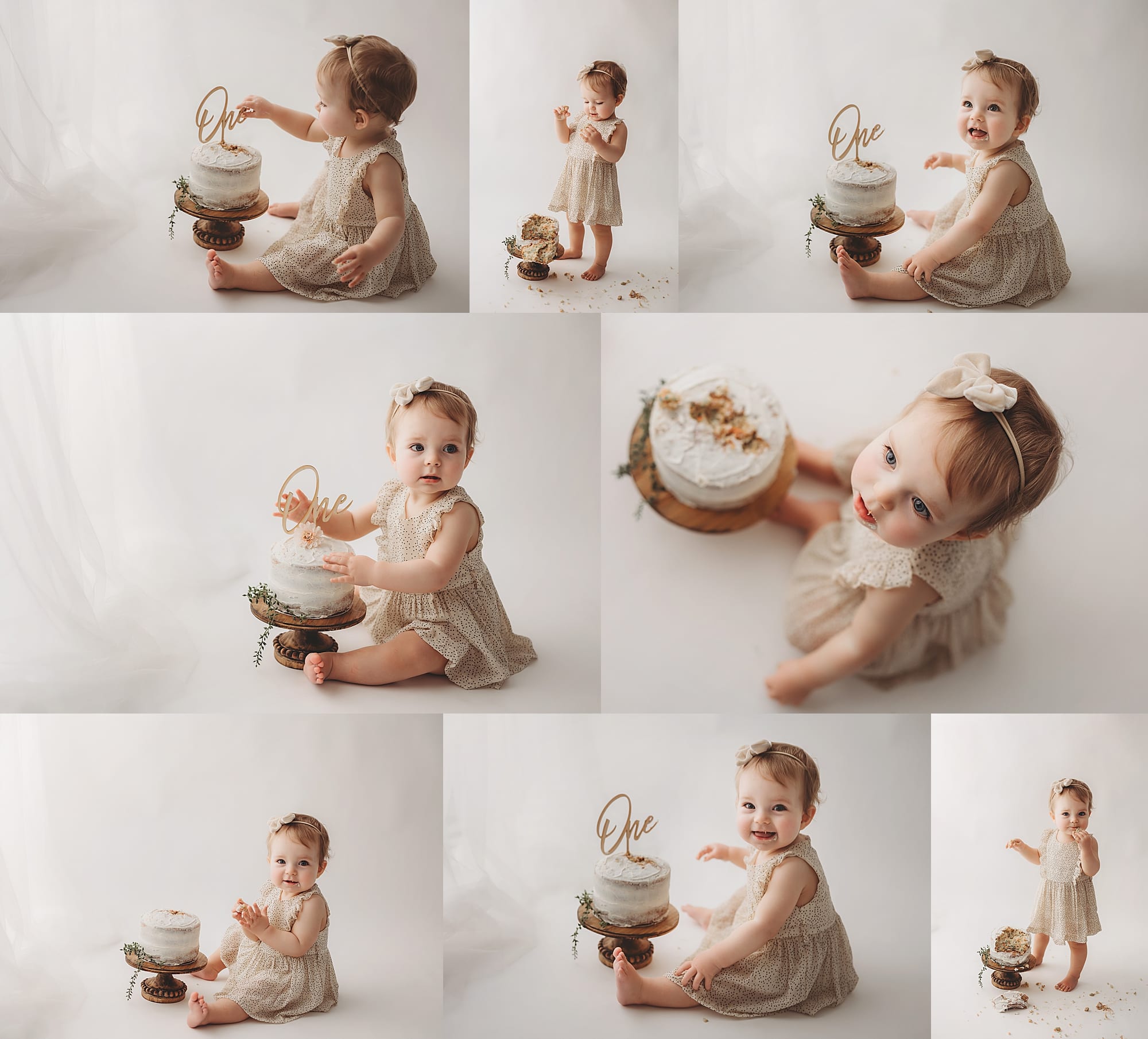 Are you ready to start planning your baby's simple cake smash?  I recommend scheduling first birthday sessions about 2-3 months in advance.  If you are wanting your photos in time for your baby's birthday party, I recommend scheduling the session 3 weeks before the party.  Let's start planning today!