Fresh 48 Photography
Fresh 48 photography has gotten very popular in recent years.  It is one of the most difficult sessions to schedule.  But it is also one of the most rewarding sessions.  I love being able to be one of baby's first visitors!
I met this little guy's mommy and daddy a few weeks before he was born for their maternity session.  I was so excited when they told me he was here.  Oh my goodness, those cheeks and dark eyes.  And maybe blonde hair?  I can't tell!  Getting to see your baby's own individual looks is so exciting.  It's almost as exciting when you are the photographer 😉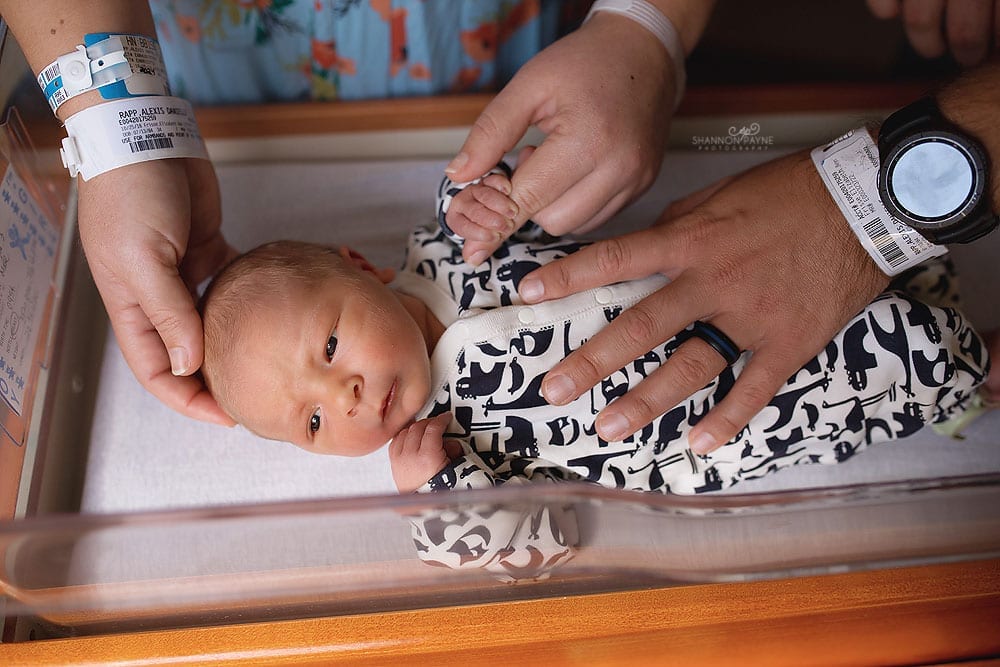 Tristar Hendersonville Birth Center
The Birth Center at Tristar Hendersonville has rooms that accomodate the entire birth process from labor and delivery to postpartum care.  I think this concept is very convenient for new parents because they never have to switch rooms.  Once baby is born, new parents have usually been in this room for a day or more.  So they are very comfortable.  Let me tell you, the rooms are huge!  I also love this hospital because it is right down the street from my studio.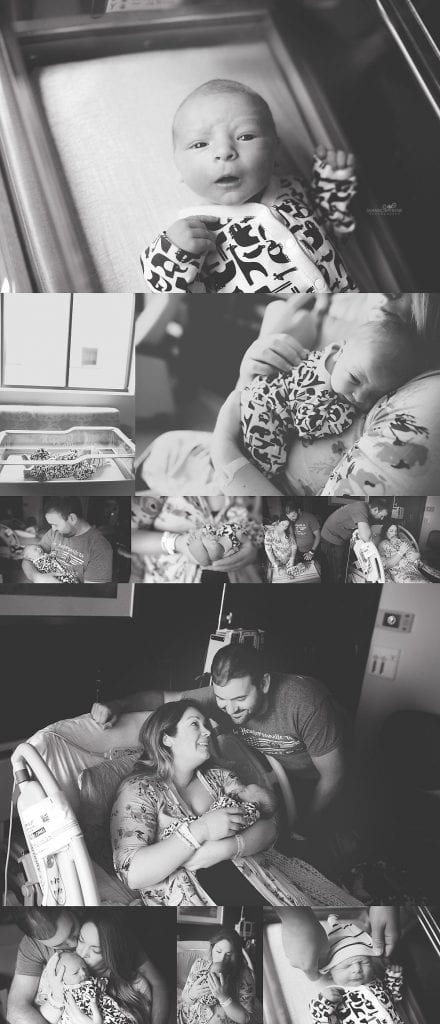 The Birth Center Photos
So…. what happens at a Fresh 48 session?  When I arrive, I make sure to take pictures of the little details like the room number, signs, flowers, hospital bracelets, etc.  All of the little things you may forget in the beautiful chaos of welcoming your new baby to the world.  I will take individual pictures of baby alone and with mom and dad.  The nursery bassinet is one of my favorites.  I also love capturing little moments like outfit changes and swaddling baby.  Oh, don't forget those sweet fingers and toes.  These sessions are all about documenting the day and first hours in your baby's life.  They are real, raw, unposed, and emotional.
Welcome to the world baby D!  You have a mommy and daddy who are smitten.

Are you expecting in 2019?  I'd love to meet your new addition.  I currently serve hospitals in Sumner County and Nashville, TN.  I'd love to chat with you.  I currently only offer one Fresh 48 session per month, so it is best book months in advance.  Contact me to discuss my packages.
Top 10 Photos of 2018
This is my favorite blog post of the year!  I love going back to look through pictures from the past year.  I believe one of the most important things to do as a business owner (or anyone really) is reflection.  Going back and looking at your past can show you how you need to grow.  As I close out 2018, I like to go back and see what I did that was good and not so good.  So as I reflect, I like to share some of my favorites.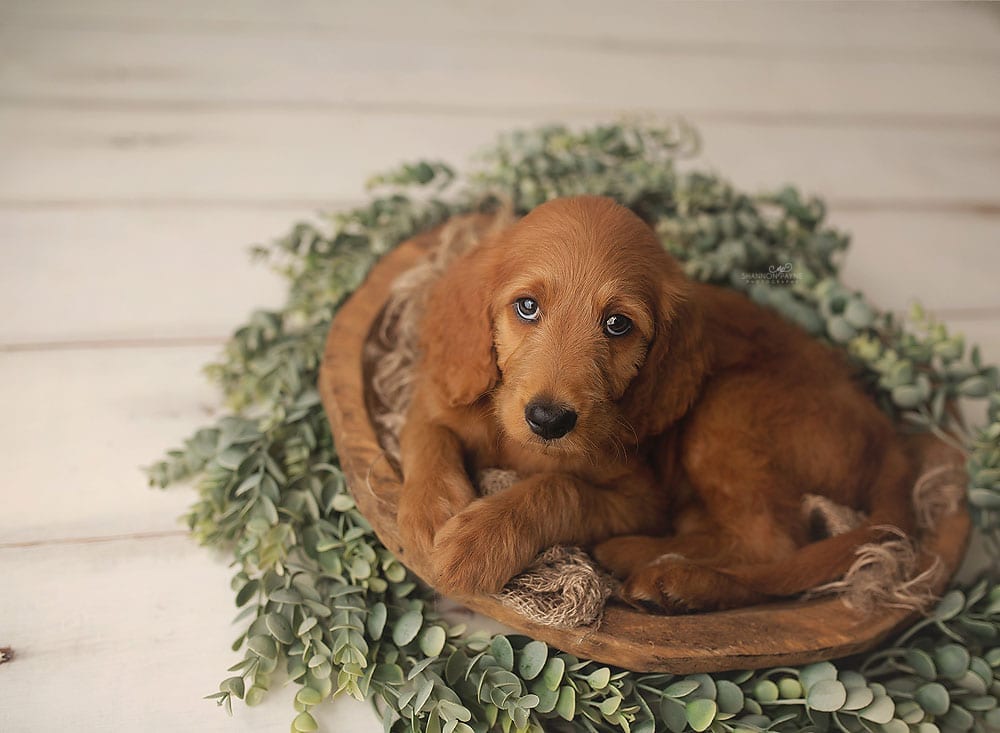 Most Unusual Request
My most unusual request from 2018 goes to sweet Sunny's mom.  Sunny is a golden doodle, and her mommy wanted puppy newborn pictures.  I love puppies, and I love newborn pictures, so I was game!  Lauren brought Sunny to my studio the same day that she picked her up from her little.  Sunny was a little timid and shy which made for some awesome "newborn" pictures!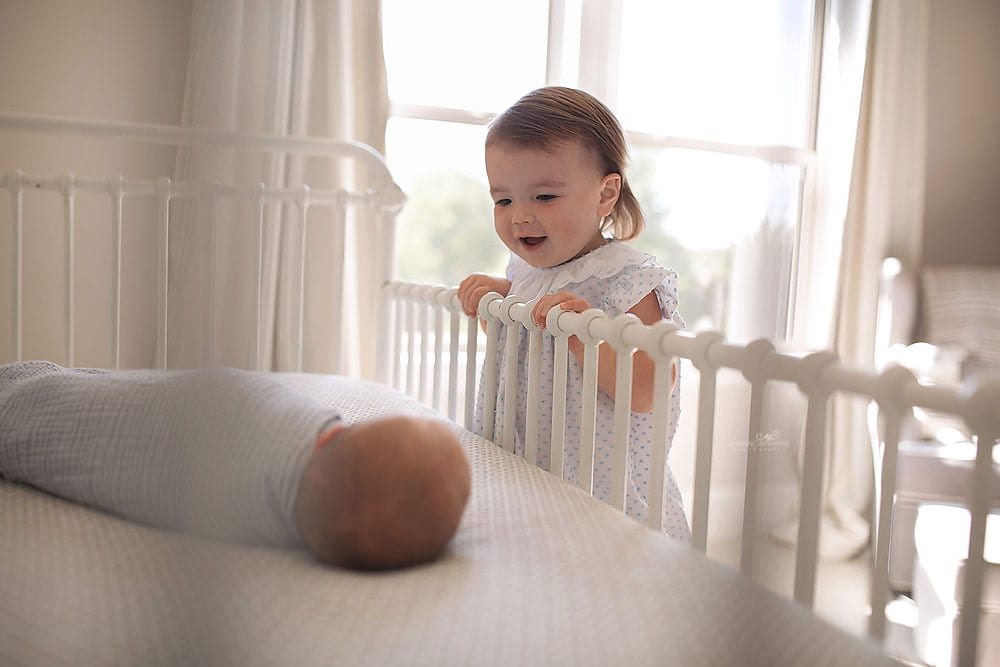 Favorite Sibling Photo
My favorite sibling photo came from the Oxley family's newborn lifestyle session.  Baby B's mommy requested a picture of his big sister looking into his crib.  So I put a little stool in front of his crib, walked around to the side, and asked big sis to climb on the stool.  This was her first look at him!  That expression is priceless, and I am SO happy I captured it.  She was so proud to stand on that stool and be able to see brother.  Hopefully it didn't give her any ideas for future climbing!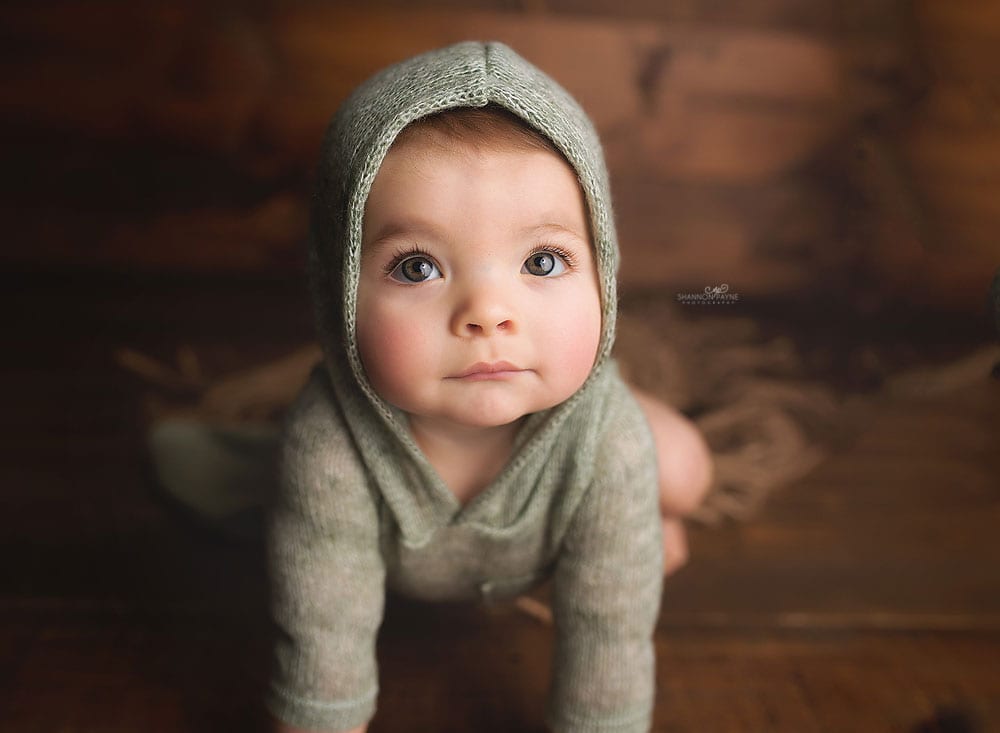 Favorite Milestone Photo
Noah, Noah, Noah…. not only is he cute, but he is fun to photograph.  Oh… and people tell me that he resembles my youngest when he was a baby.  I think it has given me a soft spot for the little guy.  Last year I really focused on building my milestone baby wardrobe.  I ended up with a ton of girl outfits, but not a big selection of boy outfits.  So this year I wanted to build my boy collection.  I got this great new set of hooded onesies, and this was my first picture in this outfit.  I love the color and how the hood hugged Noah's chubby cheeks.
Favorite Smash Cake
Last year, I really fell in love with florals and greenery for my cake smashes.  However florals worked really well for baby girls, but it didn't leave as many options for boys.  Again, I want to make sure my boys get great styled photos just like my girls.  Baby B's mommy requested a woodland theme, so we came up with this simple cake.  I mean, wood and burlap, who needs anything else?  I love the touch of pine cones, and B's simple jeans and suspenders from our studio wardrobe.
Favorite Location
Deep greens and golden sunsets?  That's what summer is all about!  This location quickly became my favorite summer spot.  The light fell on the hills just beautifully.  Add in a gorgeous couple, my favorite maternity dress from the season, and you've got one of my favorite images of the year.
Favorite Mini Session Photo
Kate is SO much fun to photograph.  I seriously love each and every time I get to photograph her.  She came to my East Minis with the baby lambs, and she LOVED the lambs.  I caught this little bit of magic as she went in for a kiss.

Best Smile of the Year
Does this even need words?  Biggest smile of the year award goes to this precious girl!  I love me some newborn smiles.

Most Requested Pose
I love this newborn photo.  And pose.  And babies LOVE it too!  Apparently mommies do also.  This was one of my most requested newborn poses this fall.

Most Popular Photo
I can't tell you how much I loved this maternity session.  This is the product of a vision, great communication, and a beautiful little family.  Momma had a vision, shared it with me, and I LOVED making it come to life.  It also received the most likes, comments, and shares on my social media pages.

Favorite Image of the Year
Every year, I have a favorite sessions and images.  It's normally a handful of sessions and images, but this year, one photo comes to mind.  I think there are several reasons why it's a favorite.  It was a mommy's #1 request.  So it was fun putting her vision to life.  But it was also super challenging.  First of all, I swear all of Hendersonville is in a valley, so it's hard to find spots with a beautiful sunset.  Second, we had to wait and wait for the sun to set enough, and these girls were getting restless.  But it was most definitely worth the final product.
2018 clients, thank you, thank you, thank you.  I have loved meeting and working with all of you.  I can't wait to see what 2019 has in store!
Meet Our 2018 Newborn Babies
Well….. I'm back!  I took off from blogging during the fall.  Fall is busy season, and let me tell you, this fall was BUSY!  I decided to share my 2018 newborns to break back into the blog.  When I stare at this collage, two words come to mind: thankful and blessed.  I am truly living my dream job.
Reflecting and Setting Goals
I LOVE this time of year. The new year is like spring cleaning for me. At home I usually straighten up my house, clean out closets, bag up items to donate, etc. But for my business, I am busy reflecting and setting goals. 9 years ago, this business of mine was a distant dream. Since then, I've turned it into a full time job, and I love every single minute I spend working. I love all of the families I've met and the hundreds of babies I've been blessed to snuggle and hold.
2018 has been the best year yet for SPP, and I can't help but stop and think how thankful I am. So I wanted to take a minute to thank each and every one of you who visit my social media pages, comment on my posts, like my pictures, and share words of encouragement. Even though I love my job, I struggle with time management and mommy guilt. I feel like I spent too much time on my computer and too much time thinking about work when I should be present with my kids. BUT there is nothing I would rather do than this. So thank you, thank you, thank you!
So far my goals for 2019 are:
1. Spend my time wisely
2. Learn more efficient editing techniques
3. Get more organized
Here's to an even better 2019. I can't wait to share it with you and your families!!!!
2018 Newborns
As you can see above, 2018's newborns were SO good to me.  Newborn sessions are our most requested sessions.  Newborns are my ultimate favorite sessions to photograph.  I have spent years training in newborn safety and posing to give you the best newborn experience in the Nashville area.
I'd LOVE to meet you in 2019.  Hop on over to my contact page to get in touch.
Family Newborn Photos
The most questions I get from people planning their newborn session has to do with family newborn photos.  I think this part stresses everyone out like an outdoor family session, but I promise… newborn family photos are SO much easier.
The biggest piece of advice that I have to give is bring separate cars.  Especially if you have toddlers or 3 or more children.  I like to have baby alone for the first hour of the photo session, and then let siblings come one hour in to the session.  At this time, I will get baby wrapped for pictures while you are getting the older siblings dressed and acclimated to the studio.  Why?  Well, first of all most babies tend to sleep best at the beginning of the session.  If you have followed my preparations, they will arrive at the studio nice and sleepy.  That gives me time to get all of the unwrapped photos first.  Second, family and sibling photos can be very stimulating to baby.  I like doing this last because this usually wakes up baby.
What to Wear
Keep in mind, these pictures will NOT be full body.  They are only waist up.  The way moms hold baby, we will only see the top portion of your top and your shoulder.  I do not recommend jewelry such as bracelets or necklaces.  They tend to get in the way of holding baby, and you usually don't see them.  Most of the time moms end up having to take them off.  Earrings are fine 🙂 I love light colors, creams, and pastels.  Bonus points for lace!  Dads look great in a solid button down shirt.
Sibling Newborn Photos
This pose is my absolute most favorite sibling pose.  However, it is usually the most difficult.  Big brothers and sisters around 18 months – 3 years can be really unpredictable.  This pose can make them very nervous.  I think it makes them feel like they are going to take a nap LOL!  I suggest practicing this at home so that they know what they are going to do at the studio.  AND if they don't cooperate, that's ok!  I have plans A, B, C, D, E, F, G going on in my mind at all times!
Nashville Newborn Photographer
I hope this has helped you know what to expect at your newborn session.  My #1 piece of advice for every single photo session, including newborn pictures, is not to stress.  I know that is easier said than done, but if you are stressed it will show.  For newborn sessions, the only think I ask you to do is follow my newborn guide that I send before your session. If you do this, I will take care of everything else once you get to the studio.  You don't have to lift a finger!
Keep your expectations reasonable for your other children.  Remember, they have gone through a huge life change!  I know I have a lot of smiling siblings posted here, but that is NOT always the case.  I love connections, and I love snuggles.  So if smiling at the camera is asking too much, or I am getting fake cheese smiles, we will abort and go to snuggling.  Little adjustments like this keep my photos from looking cookie cutter, and they let your children's personalities shine.
What to Expect During Family Photos
One of the BEST parts of being a photographer is getting to know families and making new friends.  The Allen family is one of those families.  I have been working with them since their oldest was a toddler.  Since then, I have watched them add THREE more boys to their family.  To say their momma is the definition of a boy mom is an understatement.  She is super mom!  Through all of our sessions together, I think she has mastered what to expect during family photos!
You would think dressing 4 boys, loading them up in a car, and getting to a photo shoot location would be stressful.  Well, you don't have to think, I'm sure it is!  But… this family has gotten awesome at our sessions and their expectations of the boys.  They know these boys are not going to sit or stand still for long, so they don't pressure them to do anything.  There's no fussing at them about how they are smiling or what they are doing.  They simply enjoy the boys, and it shows in their pictures each and every time.
So…. what should you expect during family photos?
1. Don't expect to stand and smile the whole time.  This is boring for kids and honestly, it's boring for me to edit!  I LIVE for interactions.  Don't expect perfect smiles.  If you pressure your kids to smile, you are going to get a fake cheese smile.  I want to capture giggles and REAL smiles.  So if it takes tackling dad, chasing a kid through a field, laying down to have a tickle fight, or pretending to pick boogers, we will do it.  Plan to look at the camera only about 10% of the time.  Really 😉
2. Plan to have fun.  Almost every single one of my family photo sessions ends with dad saying "That's it?" "Wow, that was easier than I thought it would be!" "That went SO much better than last time we took pictures."  Hopefully I'm not jinxing myself, but I truly believe that if you play games and let loose with your family, that you will get the pay off when you see your pictures.  I know you want to look great in your pictures, I get it!  BUT if you are constantly fixing hair, straightening skirts, wiping noses, and pulling down collars, you are going to lose the moment.  Sooooo, take a deep breathe, try not to worry, and leave all the work up to me.
3. Don't stress.  There are SO many things in life worth stressing about.  Photo sessions should not be one of them!  I know I've said this a million times, but they should be fun!  Since most of my outdoor locations are green spaces and fields, it should be like a day at the park with your family.
4. Watch YOUR expectations.  Do you have a serious baby?  If so he or she may not smile, and that's ok!  It's their personality.  We may get other really cute expressions.  If we stare at baby and work on getting a smile that doesn't come, we will miss all of the other cute things that he or she does.  Do you have a shy child?  It may take time to warm up.  Just because you are in front of the camera does not mean they are going to be any different.  Embrace being YOU!
Nashville Family Photographer
I photograph all of my family sessions past the newborn stage outside at sunset.  Sunset is my favorite time of day because of the beautiful lighting.  I feel like the lighting sets a mood and look that makes your pictures stand apart from others.  The great thing about this time of day is that EVERY day is different.  Some days are huge glowing sunsets, other days are cloudy with the sun barely peeking out.  I love this because it makes EVERY session unique.  I do not photograph family sessions mid-November through early March because of temperatures.  If it's too cold for me to be outside, I know it will be too cold for a baby or toddler.  I am currently booked for 2018 family sessions, but I'd love to see your family in 2019!
Nashville Baby Photographer
Isn't Baby C precious??? We used his family session as his 6 month sitter session.  He wasn't fully sitting up, so we had to help him out with a bucket.  Which turned out oh so cute, I might add!  He was too distracted by the grass to smile at us for that one, but look at that cute face!  No smile needed.  However, he LOVED playing on the quilt on his tummy.  He turned on the charm for those pictures!