Fall Family Photo Style Guide
Fall picture season is upon us!  We started booking our outdoor fall family photos in Nashville last week.  We only have a few dates remaining for our outdoor family photos.  Fall is a popular time for photos in Nashville because of the mild temperatures and beautiful foliage.  I want the outfit selection process to be as easy and stress free as possible, so I've come up with this Fall Family Photo Style Guide to help you out.
Choose an Inspiration Piece
The first step in choosing your family's outfits for fall is to pick an inspiration piece.  This can be a color, a dress or shirt with a pattern, a piece of jewelry, etc.  Basically you need something that you absolutely love, and pull the colors from it to dress the rest of your family.  In the family below, you can tell that they chose the little girl's dress as the inspiration piece.  It has a floral pattern with mutiple colors.  They then used the colors to pull everyone else's clothing. Mom chose red and kept things simple for the boys.  They added in texture with layers and stayed casual with jeans.  Matching exactly is a no-no.  It makes things too busy.  Notice that the colors they chose make the colors in the background stand out as well.

Fall Family Photo Color Schemes
One of the biggest pieces of advice I like to give my clients is to choose colors that coordinate with their home.  Our goal for your family's portraits is to be able to show them off in your home.  If your home has a neutral decor, you don't want to choose clothing in shades of purple or magenta.  You want your colors to display will with your home.
This family chose beautiful muted shades that complemented each other.  Even though these were not neutral colors, they were muted enough to give a very neutral look.   *** These photos below and the photos above were taken at the SAME location on the SAME day.  Notice how the colors in the grass look totally different when they are next to the different colors in the clothing.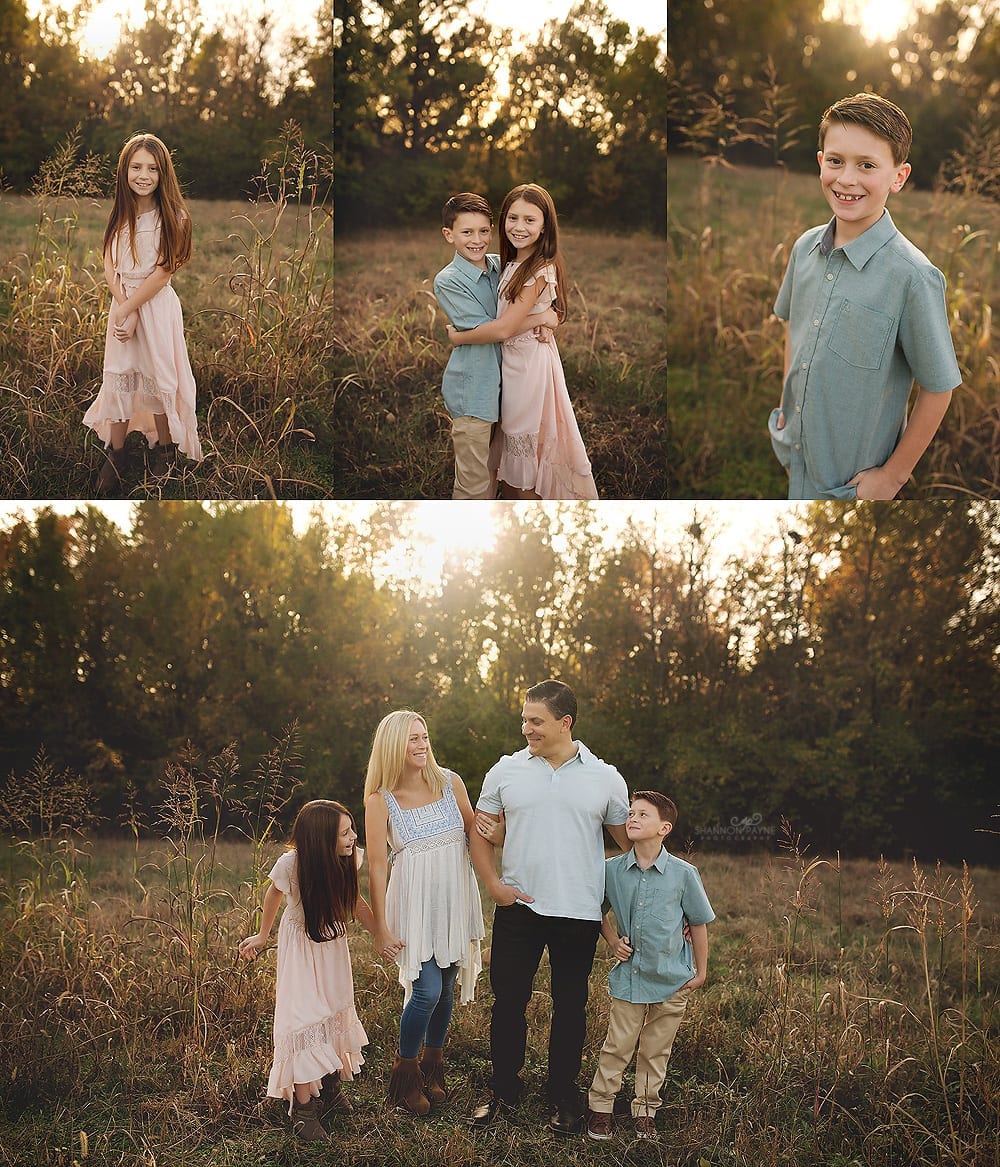 Another popular color option for fall family photos is jewel tones.  Deep, rich colors photograph really well with the vibrant colors in the fall.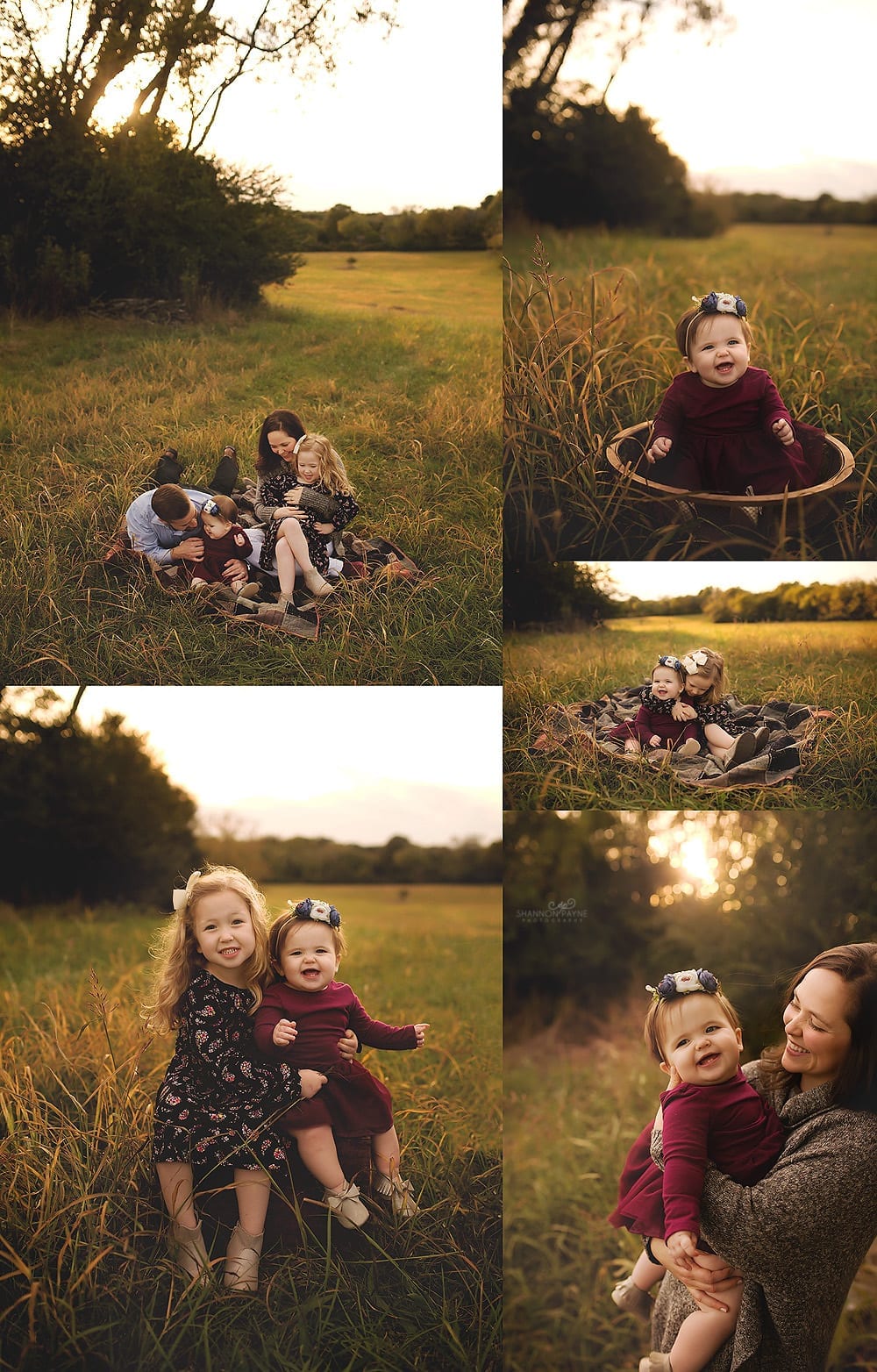 Mix Layers and Textures
Layers and textures add interest to your photos.  An added bonus for layers is being able to add or remove them to stay warm or cool with the unpredictable fall temperatures.  This family's session was 2 years ago, but it is still one of my favorite example of using layers.  They did a great job!

Neutral Colors are Timeless
When in doubt if colors are stressing you out, go neutral.  I love neutral colors and you can't go wrong with them!  You can add interest with different layers, patterns, and textures.  Things as simple as the stitching on dad's shirt can add to the visual interest.  For the family below, I wanted mom's gorgeous skirt to stand out.  She was debating on a patterned shirt for her son, but I was worried that the pattern would take the attention away from her skirt.  Even though it's simple and in a muted color, it adds movement and texture to their photos.
By the way, these chiffon skirts photograph beautifully!  You can find them in a variety of colors and styles on Amazon. Amazon has had some great finds recently!

As you are selecting your outfits, I recommend laying them out on your bed or the floor.  Take a pictures, switch out items, take another picture, and keep doing that until you find the combination you love.  I am always here to help, so feel free emailing or texting me your photos.  Below I have links to my What to Wear pinboards on Pinterest.  I'll continue to update these as the fall season progresses.
Clothing vendors I love:
Gap, Target, Old Navy are great for choosing simple tops or dresses to compliment your inspiration piece.  Amazon has had some great finds as well.  Just be sure to check reviews as the quality can be hit or miss.
Joyfolie, My Style Scoop, Vici, Zara, Bailey's Blossoms, Wren and Ivory are all great for inspiration pieces.