Family Newborn Photos
The most questions I get from people planning their newborn session has to do with family newborn photos.  I think this part stresses everyone out like an outdoor family session, but I promise… newborn family photos are SO much easier.
The biggest piece of advice that I have to give is bring separate cars.  Especially if you have toddlers or 3 or more children.  I like to have baby alone for the first hour of the photo session, and then let siblings come one hour in to the session.  At this time, I will get baby wrapped for pictures while you are getting the older siblings dressed and acclimated to the studio.  Why?  Well, first of all most babies tend to sleep best at the beginning of the session.  If you have followed my preparations, they will arrive at the studio nice and sleepy.  That gives me time to get all of the unwrapped photos first.  Second, family and sibling photos can be very stimulating to baby.  I like doing this last because this usually wakes up baby.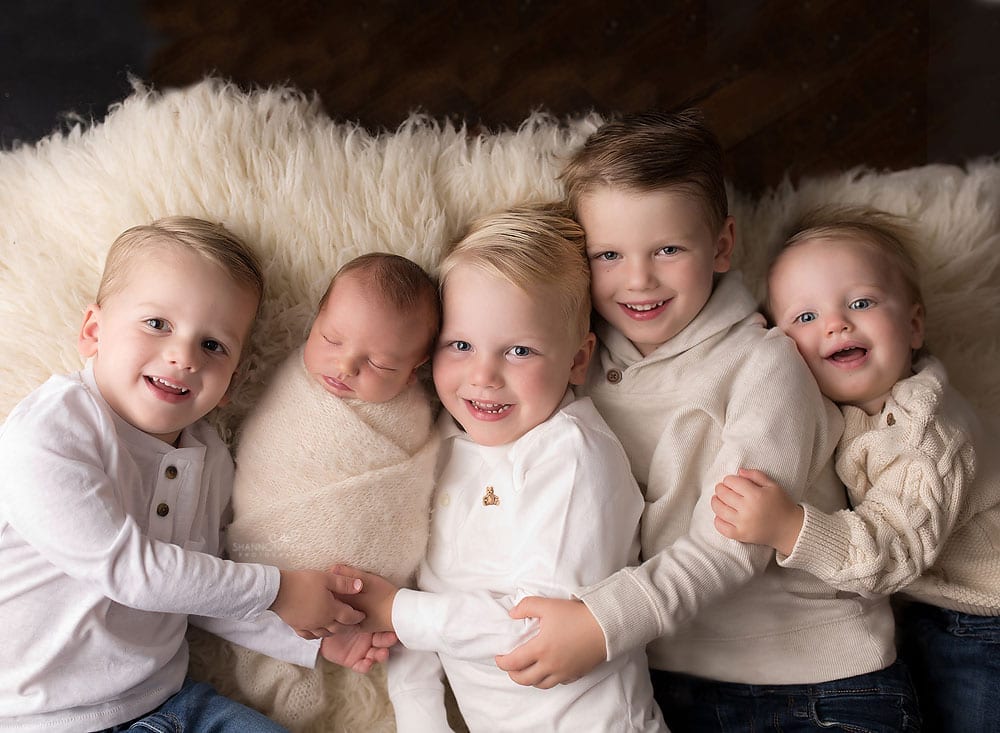 What to Wear
Keep in mind, these pictures will NOT be full body.  They are only waist up.  The way moms hold baby, we will only see the top portion of your top and your shoulder.  There is no need to worry about shoes, and you can wear comfy pants!  I do not recommend jewelry such as bracelets or necklaces.  They tend to get in the way of holding baby, and you usually don't see them.  Most of the time moms end up having to take them off.  Earrings are fine 🙂 I love light colors, creams, and pastels.  Bonus points for lace!  Dads look great in a solid button down shirt.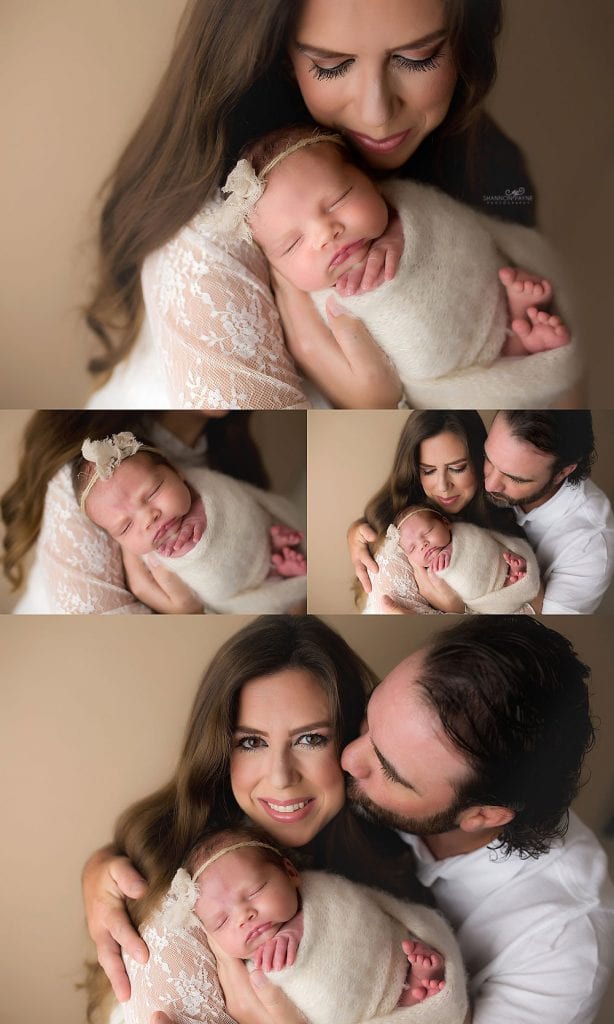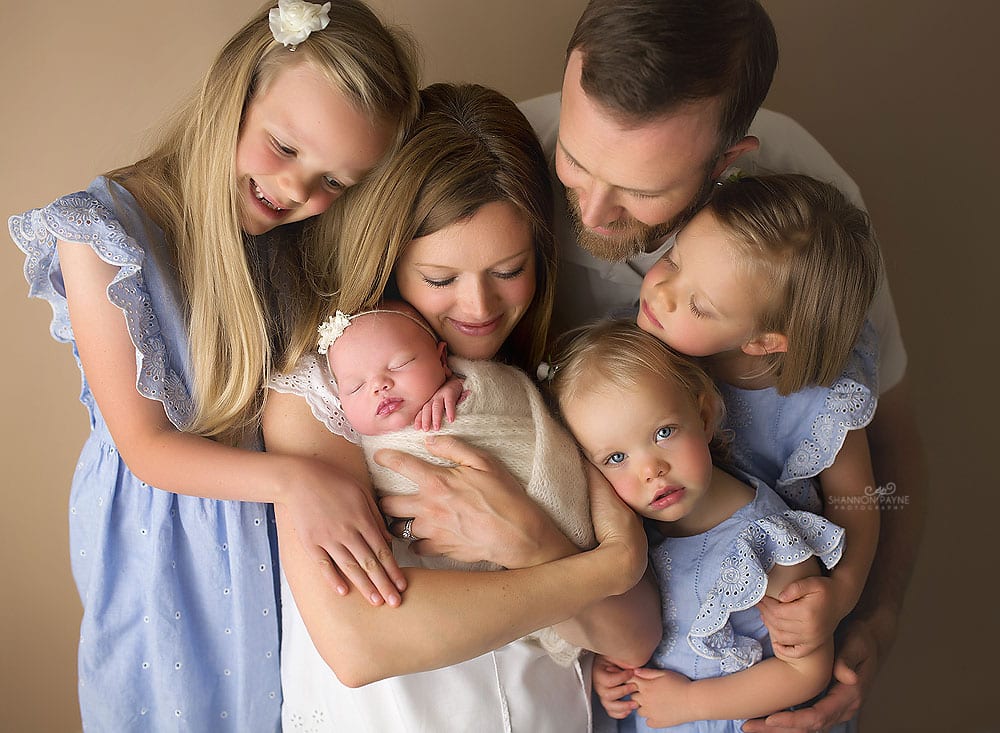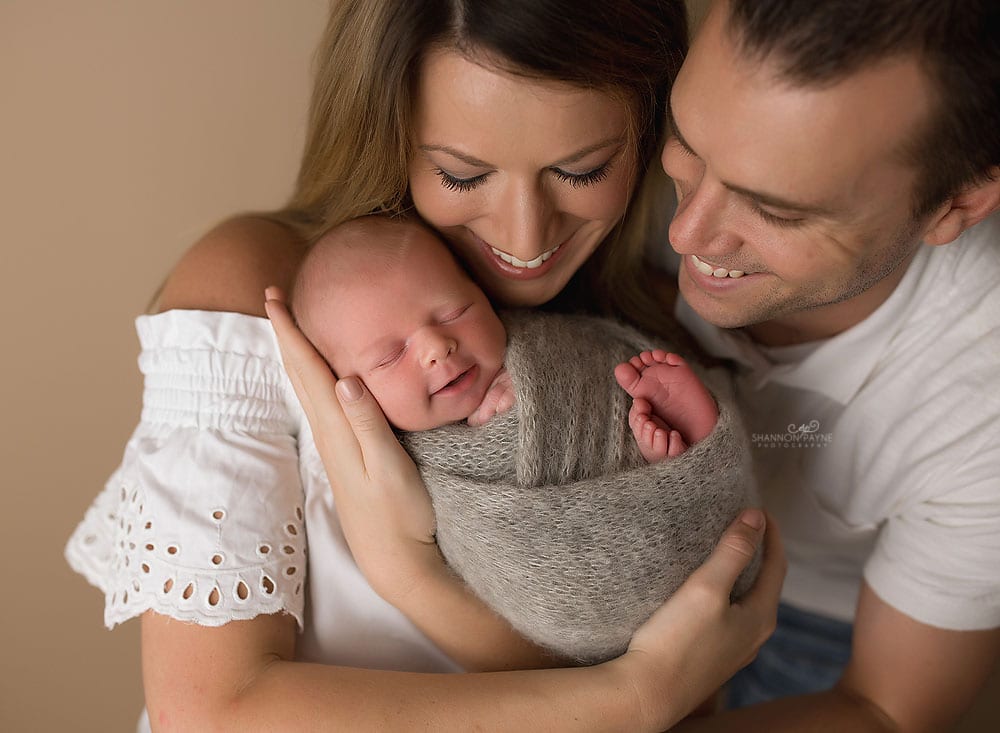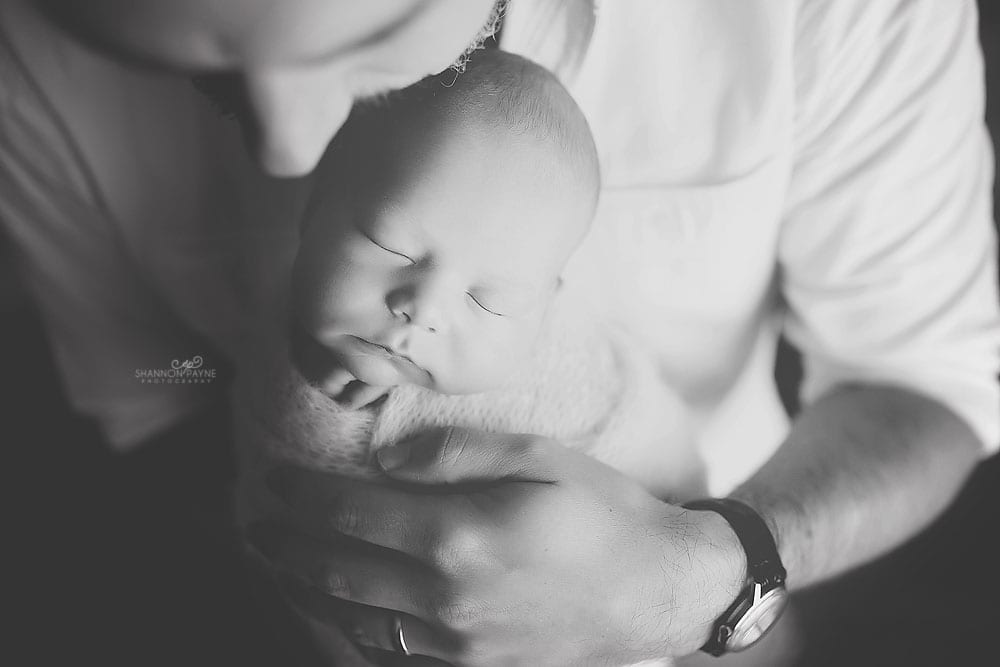 Sibling Newborn Photos
This pose is my absolute most favorite sibling pose.  However, it is usually the most difficult.  Big brothers and sisters around 18 months – 3 years can be really unpredictable.  This pose can make them very nervous.  I think it makes them feel like they are going to take a nap LOL!  I suggest practicing this at home so that they know what they are going to do at the studio.  AND if they don't cooperate, that's ok!  I have plans A, B, C, D, E, F, G going on in my mind at all times!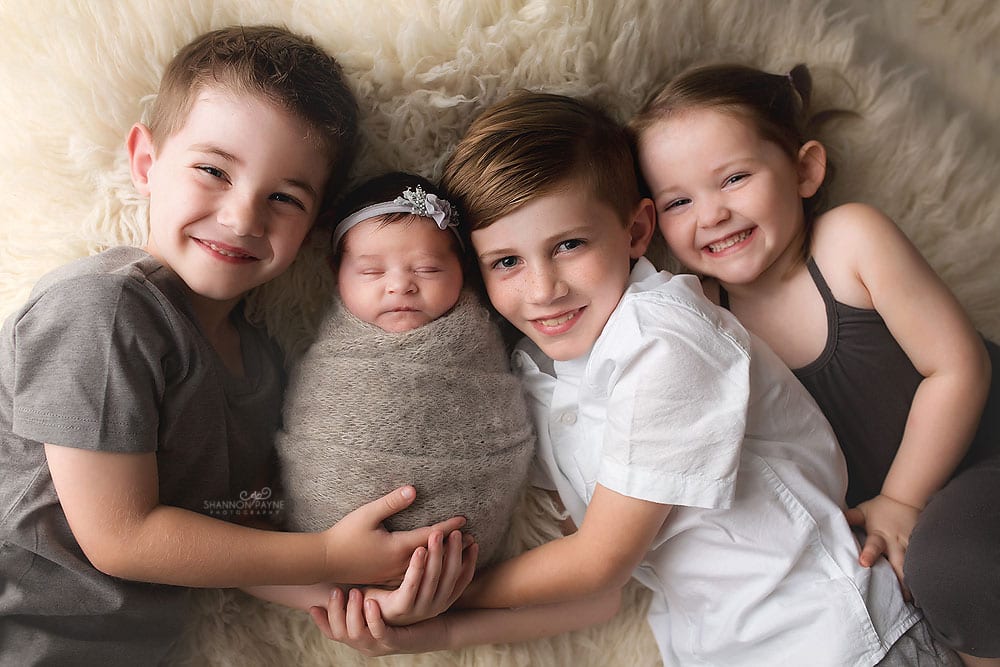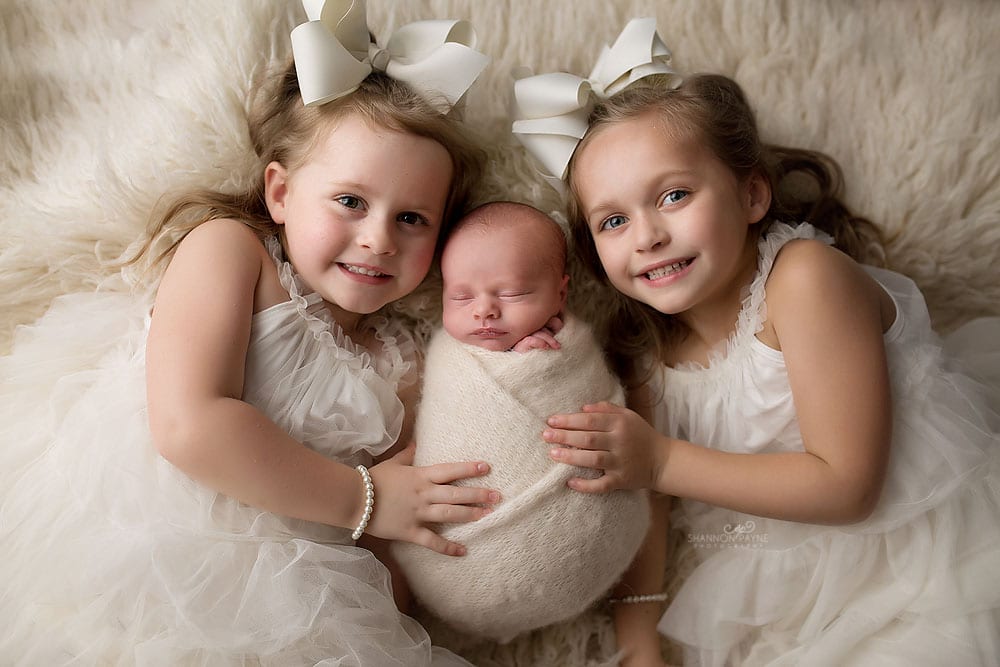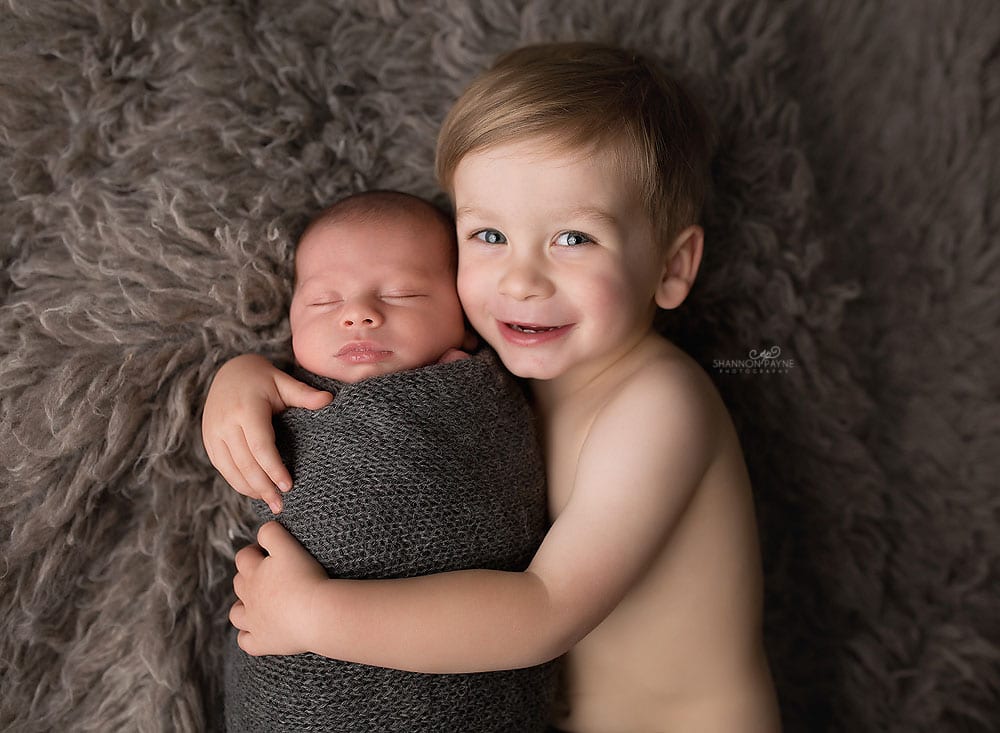 Nashville Newborn Photographer
I hope this has helped you know what to expect at your newborn session.  My #1 piece of advice for every single photo session, including newborn pictures, is not to stress.  I know that is easier said than done, but if you are stressed it will show.  For newborn sessions, the only think I ask you to do is follow my newborn guide that I send before your session. If you do this, I will take care of everything else once you get to the studio.  You don't have to lift a finger!
Keep your expectations reasonable for your other children.  Remember, they have gone through a huge life change!  I know I have a lot of smiling siblings posted here, but that is NOT always the case.  I love connections, and I love snuggles.  So if smiling at the camera is asking too much, or I am getting fake cheese smiles, we will abort and go to snuggling.  Little adjustments like this keep my photos from looking cookie cutter, and they let your children's personalities shine.