If you follow me on Facebook or Instagram, you know that I love first birthday photos.  Many parents choose to celebrate baby's one year milestone photos with a birthday cake.  Parents bring the cake to the studio, and we finish the milestone photos letting baby get messy.  Each and every cake smash is unique and unpredictable.  Every baby reacts differently which keeps things fun for me.  Many parents come to a session wanting a specific photo or expecting their baby to just sit and smile with the cake.  That sitting and smiling photo doesn't always happen, but what does is even better.
Smash Cake Inspiration
I photograph "simple cake smashes".  What is a simple cake smash?  Well, it's just baby and a cake.  I don't include busy backdrops, banners, balloons, etc.  Just like all of my other milestone photos, I want the focus to be on baby and not a busy background.  You can add personality and creativity to your cake smash with a unique birthday cake.  My preferred smash cake bakery is The Rolling Pin. All of the cakes featured below were made by The Rolling Pin.  She takes an idea and runs.  Her cakes are always better than I could imagine.
Circus Smash Cake
MacArthur's first birthday was circus themed, so his mommy brought in this AWE-dorable cake.  Little man didn't use his hands at all, he dug in with his face!  It totally made my day.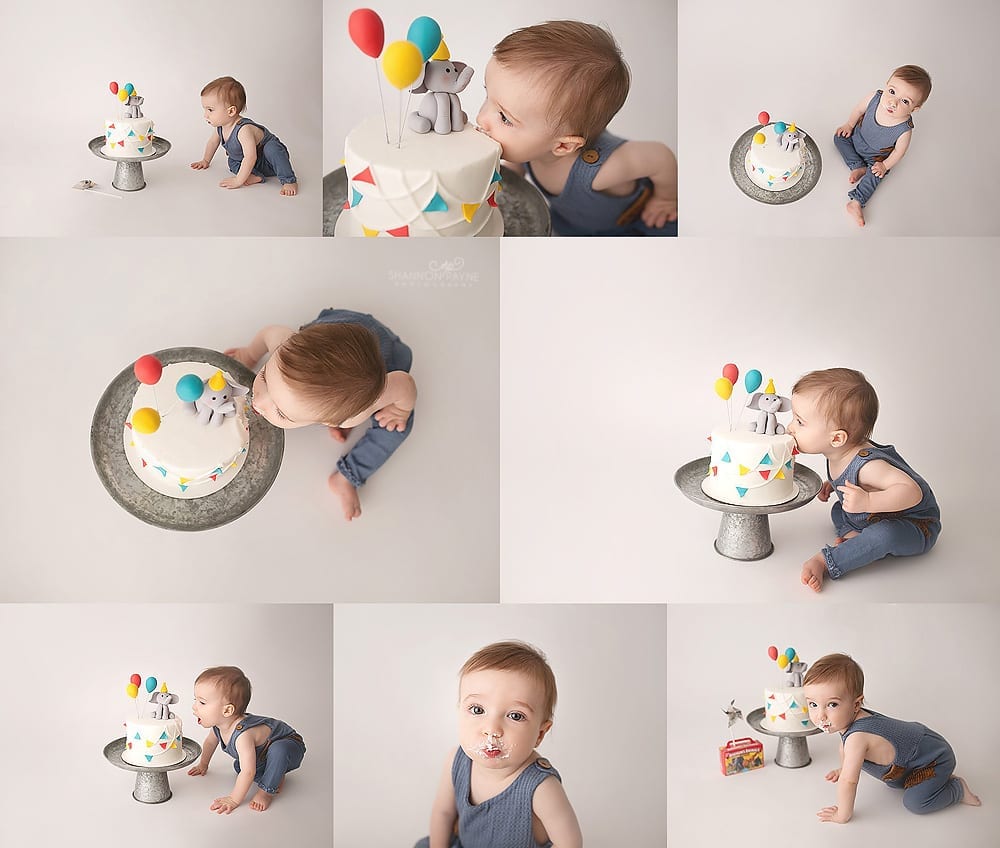 Unicorn Smash Cake
Helena's birthday was unicorn themed, so her mommy chose a unicorn cake.  We showed it off with a girly cake stand, and an adorable outfit from Sew Whimsey.  Helena was so playful.  She had been sticking her tongue out all morning long, and she made sure to do it for her cake smash photos too.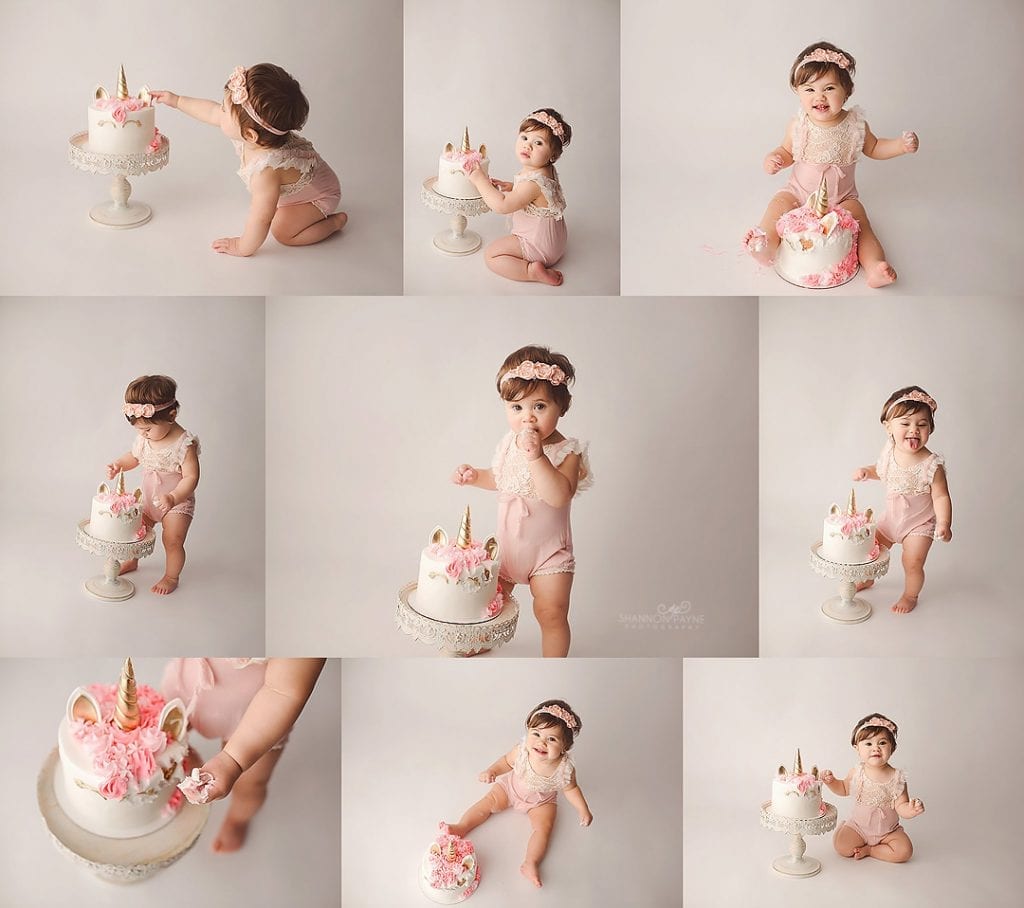 Cookie Smash Cake
Guess what Owen's mommy craved when she was pregnant with him?  You guessed it…. chocolate chip cookies!  I think the craving rubbed off, because Owen loved his cake!  He was another little one that when mouth first.  I'm telling you, it's the best.  Not many babies do it, but when they do, it makes me squeal!  This cake was so cute, and I love how unique it is.  Owen couldn't really get messy with it since the frosting was in the layers, but when he knocked the cake stand over, he broke into the cookie layers.  Big sis even joined in at the end.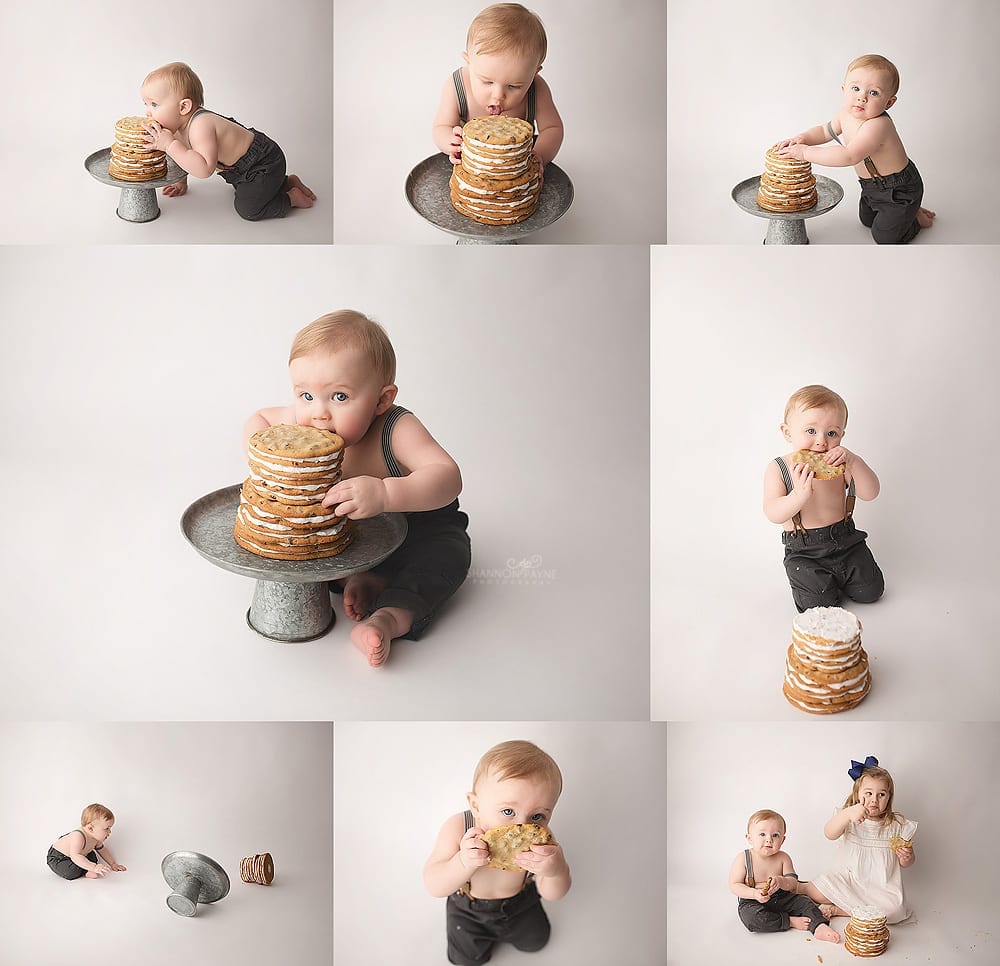 I offer several different packages for Milestone Photos.  Parents bring in cakes, and I supply the outfit and cake stand.  If your baby is turning one soon, I'd love to chat with you!