Newborn Portrait Studio
Last week was pretty exciting at my newborn portrait studio.  We spent the day filming clips for a special project I have in the works.  I'll share more soon, but I am pretty excited about it!  In preparation I spent the week cleaning and organizing the studio.  During the summer, I still work a full-time shooting schedule, but I don't have full time hours.  So things were getting a little out of control (a-hem…. messy).  My boys' first day back at school was last Monday, so I headed to the studio for some much needed organization.  I've been meaning to share pictures of my space for years and just never got around to doing it.  This was a great excuse!
This studio holds a big piece of my heart, and I am so excited to share it with you.
Nashville Newborn Studio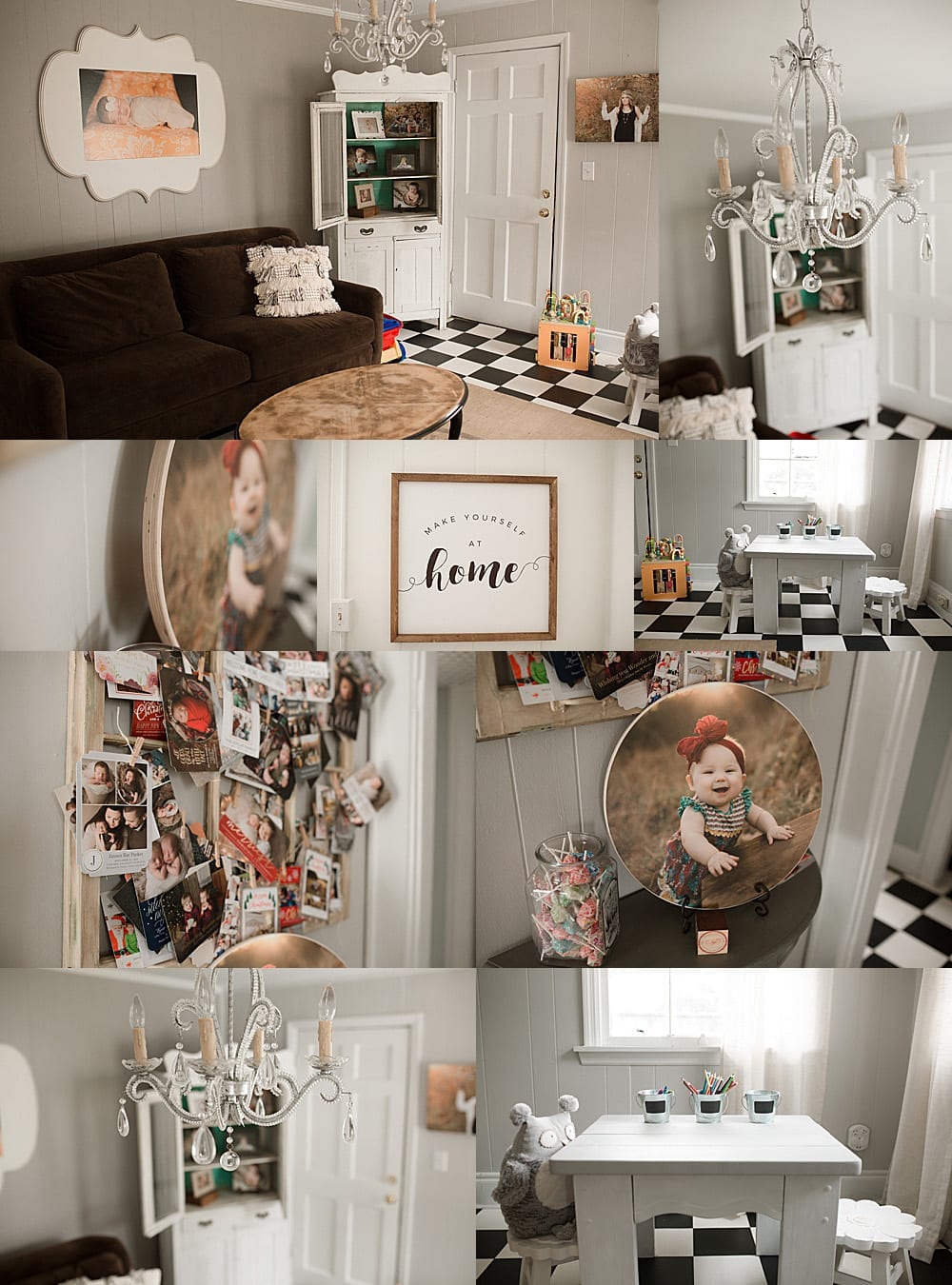 Our newborn portrait studio is located in Hendersonville, TN just a short drive from Nashville.  It is located in a charming craftsman style home on Shivel Dr.  Years ago, I found out this street was the first subdivision in Hendersonville when the city started developing.  It is crazy how much our city has grown since I moved here 10 years ago! There is a Starbucks a block away, so don't forget to grab a treat on your way to the studio.  This area of town is also full of local restaurants.  Newborn photo sessions usually end around lunch time, and there are some great places to stop on your way home.  Sax Deli is right across the street.  El Trompo Taco Shop and Don Miguel's Juicery + Rustic Kitchen are 2 blocks away.  Cafe Rakka, which was featured on Diners, Drive Ins, and Dives, is about a mile away.  I highly recommend all of them.
When you first walk in to the studio, you enter the waiting room area.  I have a couch for nursing and a children's play area in this room.  When families come for newborn photos, this is where they hang out while they wait for their turn behind the camera.  You can also find some of my favorite products including the popular Heirloom Wood Photo Blocks on display.  Don't forget to send me a birth announcement!  I love sharing them on my announcement wall.
The Newborn Studio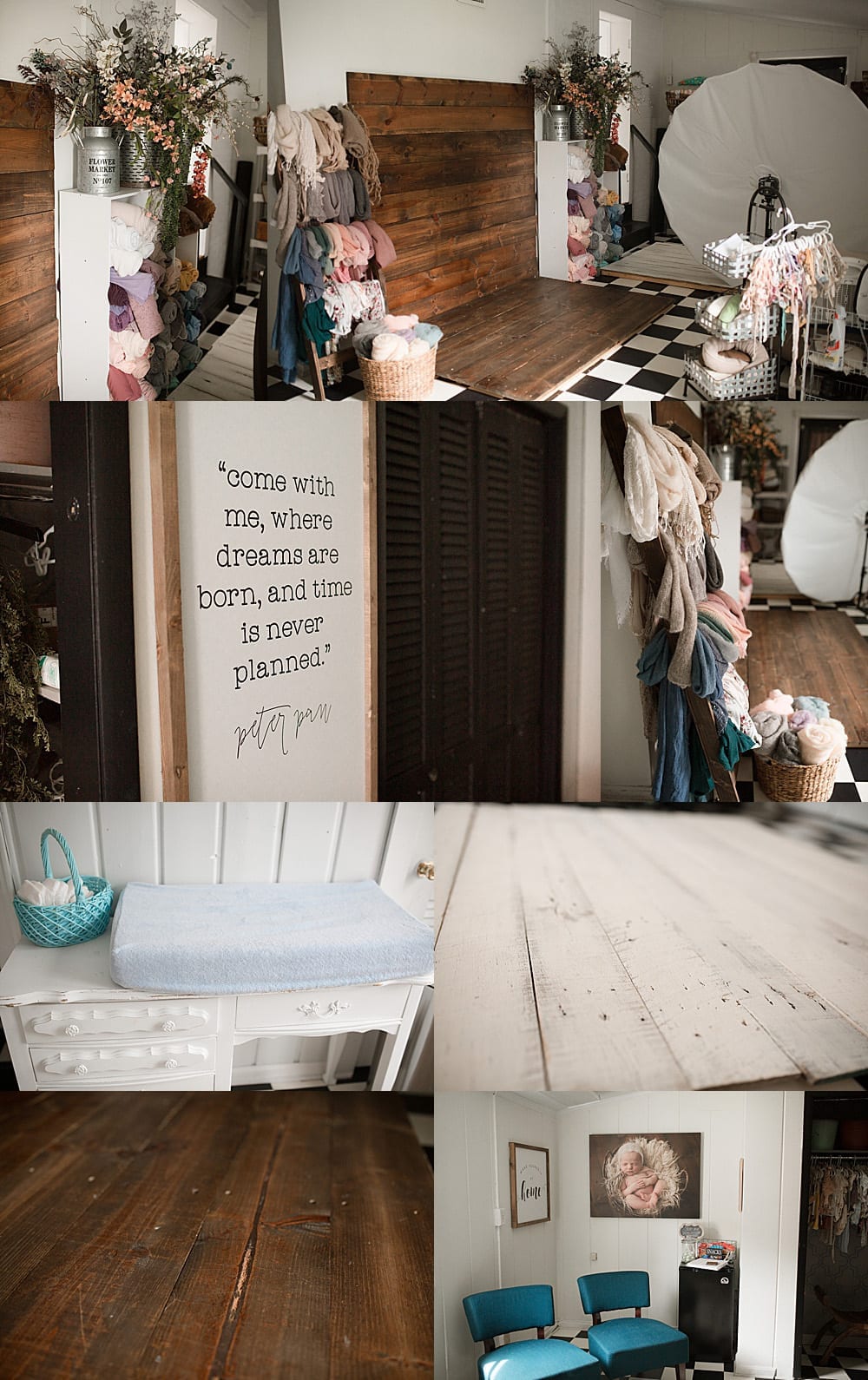 This is my favorite part of the studio.  The newborn room…  When you come in for your baby's newborn photos, the lights are dim with just the studio light lighting the room.  It is warm for baby, and the sound machine is playing.  I call it the "baby spa".  Sometimes you may catch a mom, dad, or photographer yawning! 😉  When I say the studio is fully stocked, I mean it.  I have hundreds of props from fabrics and wraps to headbands and knit hats.  Everything is setup and ready for baby when you arrive.  Each client fills out a planning guide, and I use this information to set up for baby's photos.  I love hearing parents ohhh and ahhh when they see all of the goodies I have prepared for their baby.  I have a sitting area for parents with refreshments.  My goal is for me to do all of the work, and you get to sit back and relax.  I will undress baby and take care of diaper changes.  You get to take a break!
Full Service Photo Studio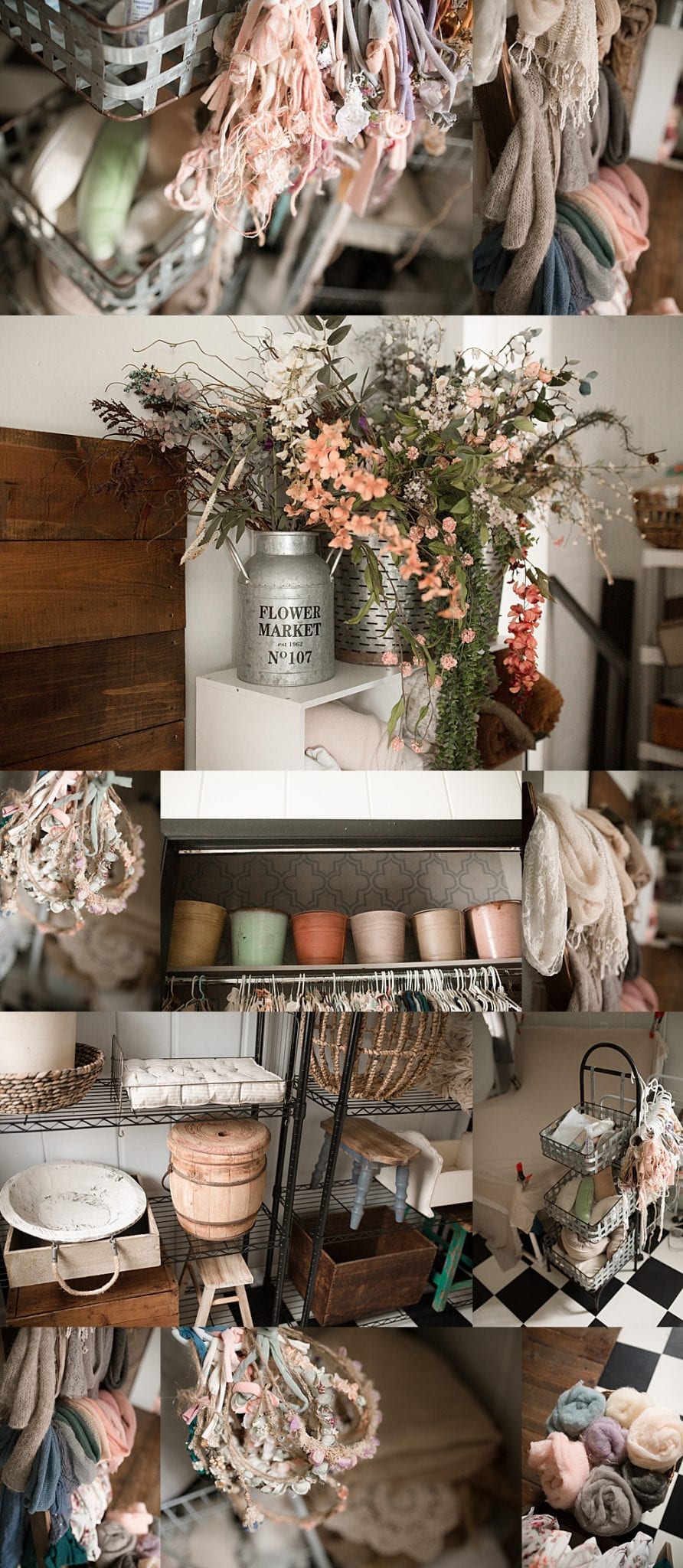 You do not have to bring a thing when you come for your newborn's photo session.  Our newborn portrait studio is fully stocked with boutique props including headbands, knit wraps, hats, and more.  I have seamless backdrops, barnwood floors, white wooden floors, and dark floors.  I like to keep a variety so that every session is unique but consistent with my style.
Baby Photo Studio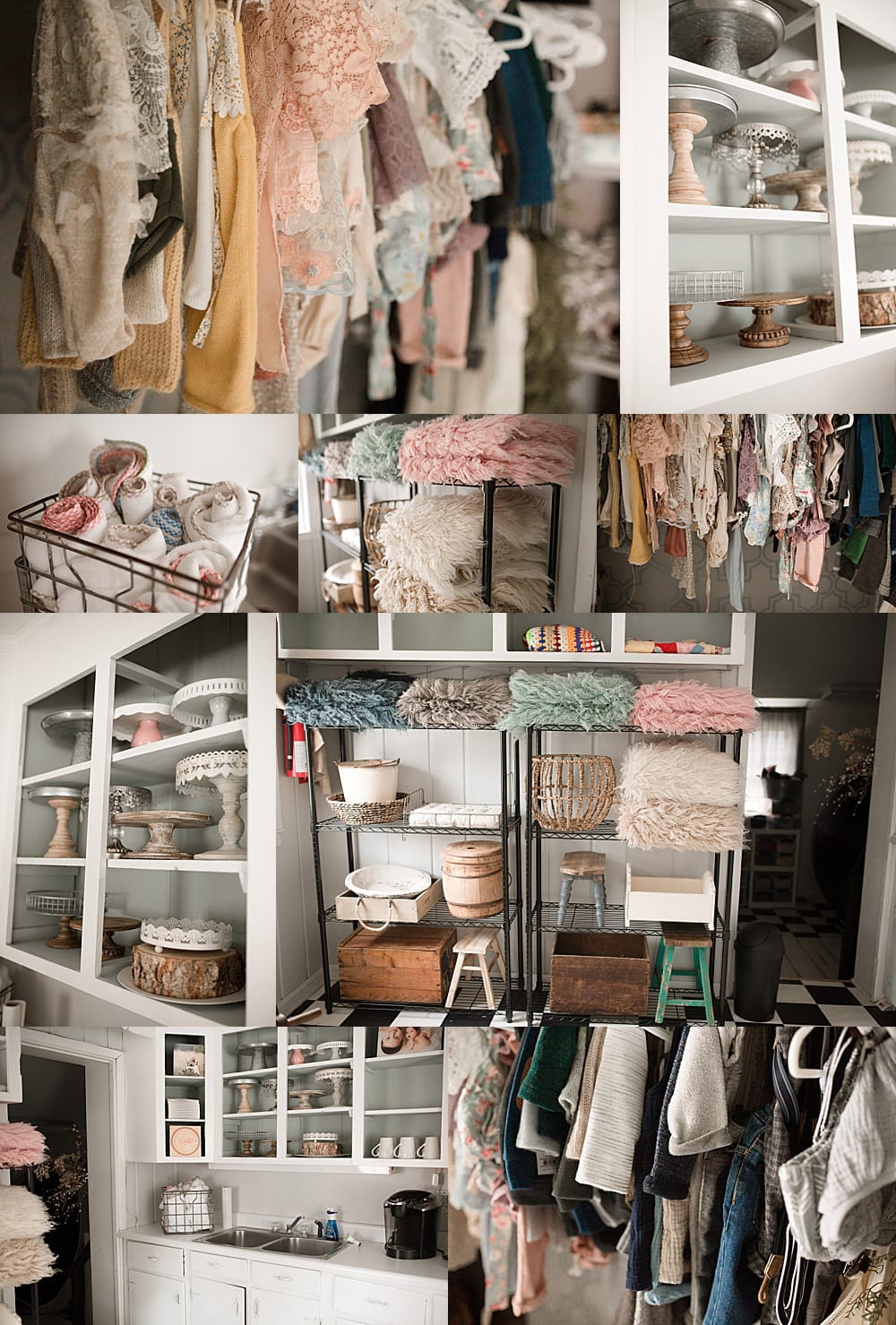 I love to watch my clients grow.  The studio is stocked with outfit for babies up to 12 months as well as cake stands for baby's cake smash photos.  I have props for sitting babies and standing babies.  I want each session with me to be fun and as stress free as possible.  Clients love coming to the studio and picking outfits from the studio closet.  I love hearing my clients rave about how much fun they had during baby's photos.
Your baby's first year will fly by.  Milestones will be reached at the blink of an eye.  I can't tell you how many times we talk about this at a baby's first birthday photo session.  Parents will say they feel like they were just here for newborn photos.  Each and every one of your photos from the tiny newborn pictures to the personality filled milestone photos will hold a special place in your heart.  I am honored to provide this service to all of my clients.  If you are expecting a baby or have a new baby, I would love to share my studio with you.  If you did not document newborn photos, it's not too late to capture some great milestone photos.  Visit the contact tab above and send me a message.  I'd love to hear from you!