What to Expect During Newborn Photos
If you are a new or expecting parent, I am sure you have spent time scrolling through many beautiful photos of newborn babies. The moms I meet at my studio have been waiting for this moment for months. Newborn photo sessions are one of those exciting milestones you get to check off once baby arrives. However, there is a lot of stress that can come with taking newborn photos. What if my baby doesn't sleep, how do I get ready for the session, what if baby is fussy the whole time, what if I forget something… The list goes on and on. Well, the good news is, you really don't have to worry about these things. Seriously! I have been in business for 1o years and specializing in newborns for 6 years. I have photographed hundreds of newborns. I have made the newborn photo experience as stress free for parents as possible. When I say you don't have to worry about a thing, I truly mean it. I want your newborn's photo experience to be a fun and exciting day.
From the day you book your photos to the morning you arrive for your photos, I am working behind the scenes to make sure this a wonderful experience for you. When you book your photos, you complete a newborn planning guide. My planning guide includes questions about your style, baby's nursery, poses you like and dislike, props you like and dislike, etc. I use all of this information to prepare for your session. My studio is stocked with hundreds of boutique props designed specifically for newborns. You don't have to bring a thing for your photos. I have it all! I will have everything set up and ready for baby when you arrive. I love hearing parents "ohhh and ahhh" over all of the goodies I have waiting on baby.
Once you arrive at the studio, I will lead you to the newborn shooting space. I like to call it the "Baby Spa". The room is nice and warm for baby, and I have soothing white noise playing. Even if babies arrive awake, it seems like they drift off into dreamland as soon as they are in this space. Now don't get me wrong, some babies sleep more than others, and some babies sleep less than others. Every baby is different. That is what makes my job so much fun. The benefit with choosing an experienced newborn photographer is that we are prepared for every situation. I always have plans a, b, c, and d going in my mind. Below you will see a typical workflow that I use for my newborn photo sessions.
Newborn Blanket Poses
If baby arrives at the studio nice and sleepy, I undress baby and start with blanket poses. I feed off of baby when posing, and I will never force baby into a pose that he or she does not want to do. I can tell when babies are comfortable and like specific positions. Since my posing is baby led, I may do different poses from one baby to the next. I love monochromatic color schemes for blanket poses. For baby Colt's photos below, we used a beautiful shade of charcoal gray.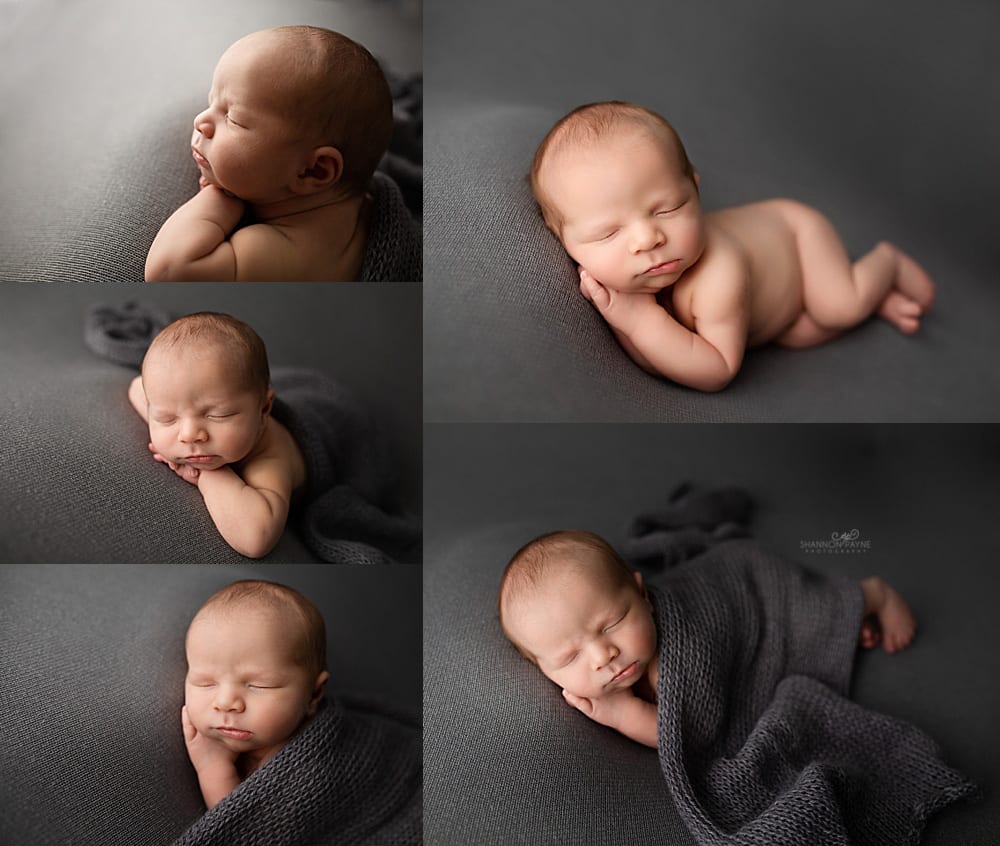 Newborn Prop Poses
Once we finish the newborn blanket poses, I move on to prop poses. These poses are where I really have fun. I love using prop setups to make every newborn photo session unique. I may use baby's nursery, the family's home style, or other special requests for my inspiration. I love textures and elements from nature. So you may see greenery, wood, or flowers. Colt loved this portion of the session. He just chilled out with his hands behind his head. I had a hard time moving him out of this position, since he looked so comfy and cute!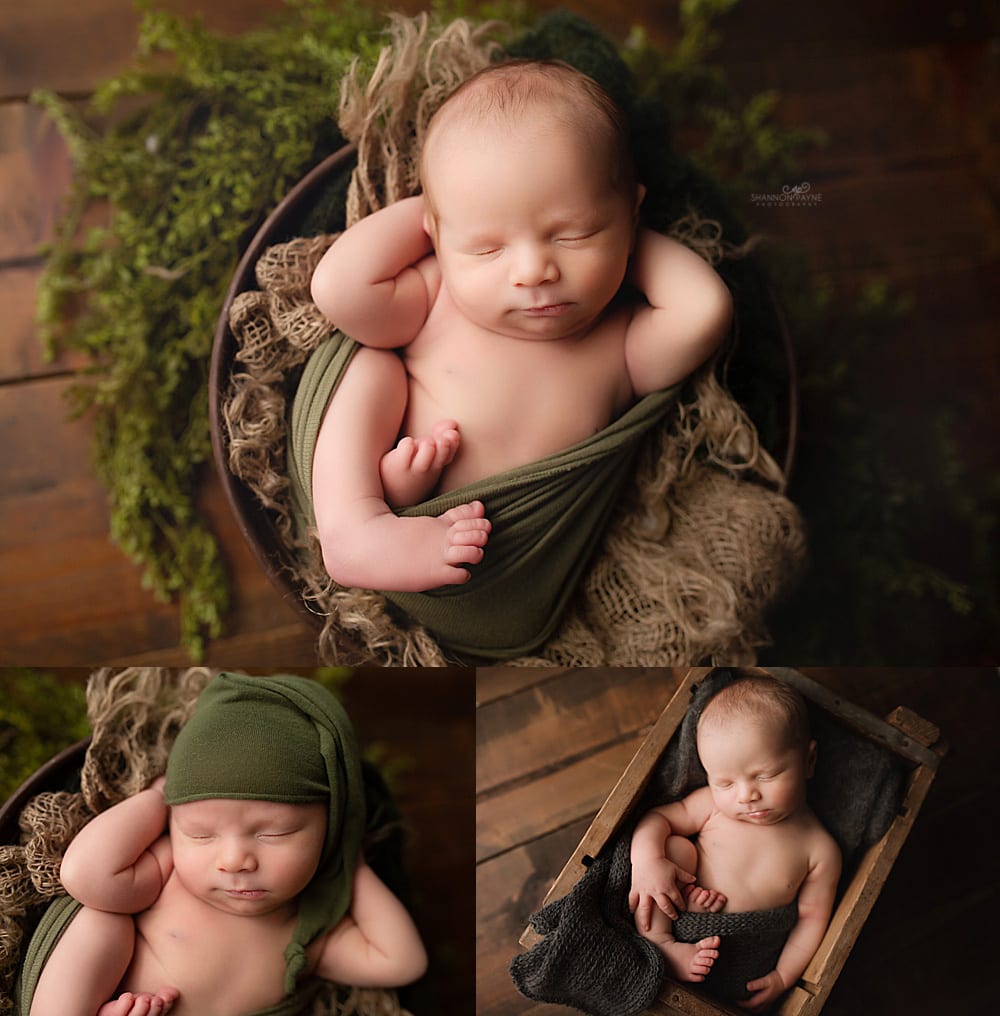 Wrapped Newborn Poses
I finish up baby's individual photos with wrapped poses. A wrapped up baby is one of my most favorite things in the world. As you can tell, Colt loved them too. His parents brought a saddle to add a personalized touch to his photos.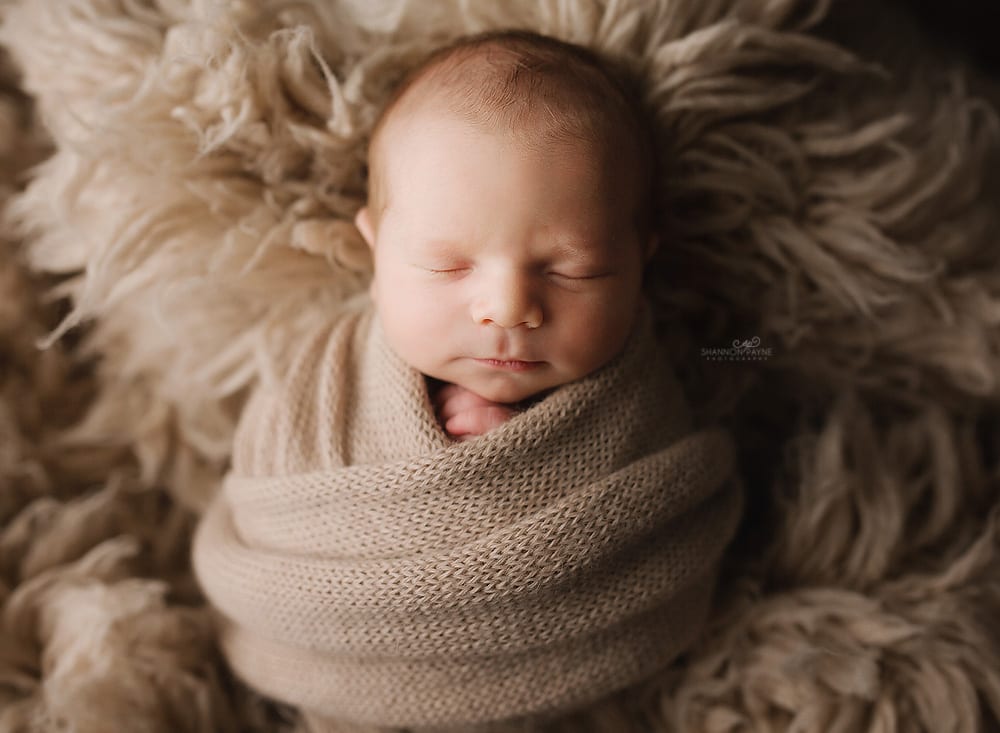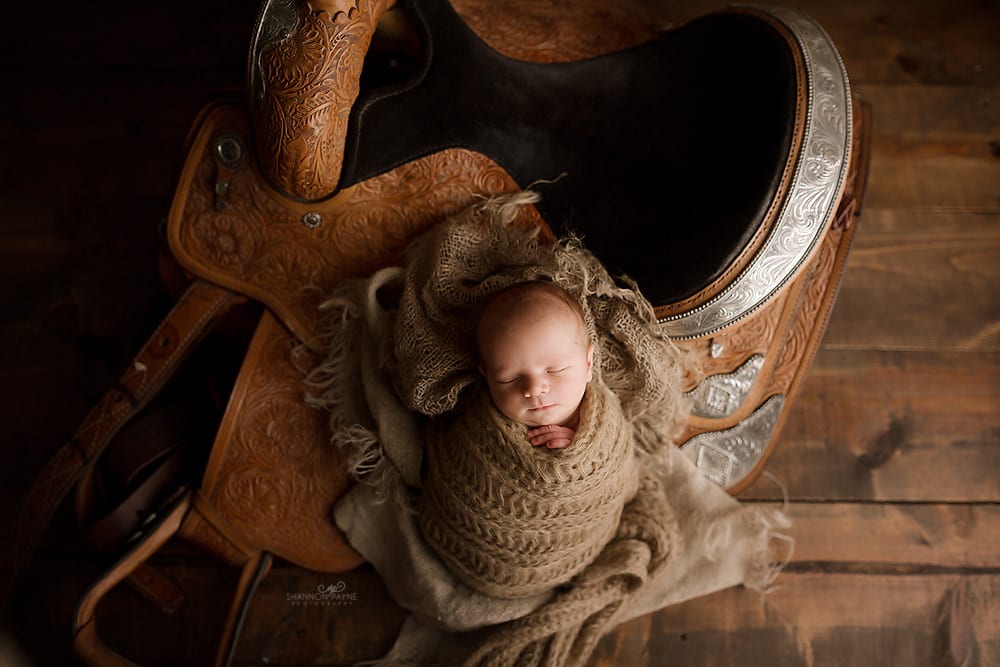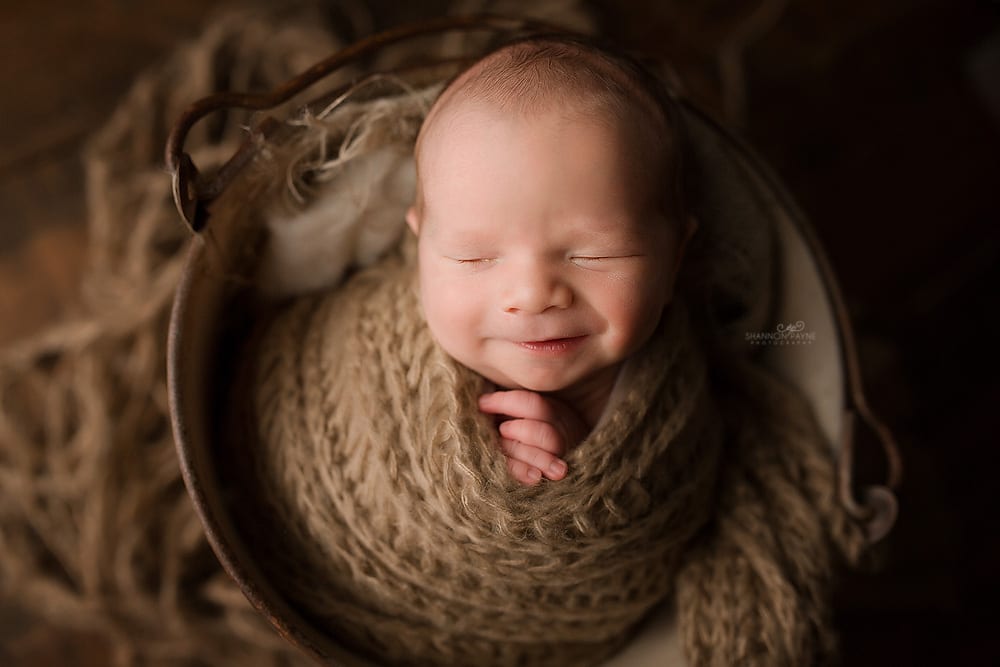 Parent Poses with Baby
We finish up newborn photos with family pictures. After spending time away from each other during baby's individual photos, it's fun to see the snuggles and love when they are reunited. (I mean, mom and dad are only sitting a few feet away, but who can resist holding a sweet baby all day long!)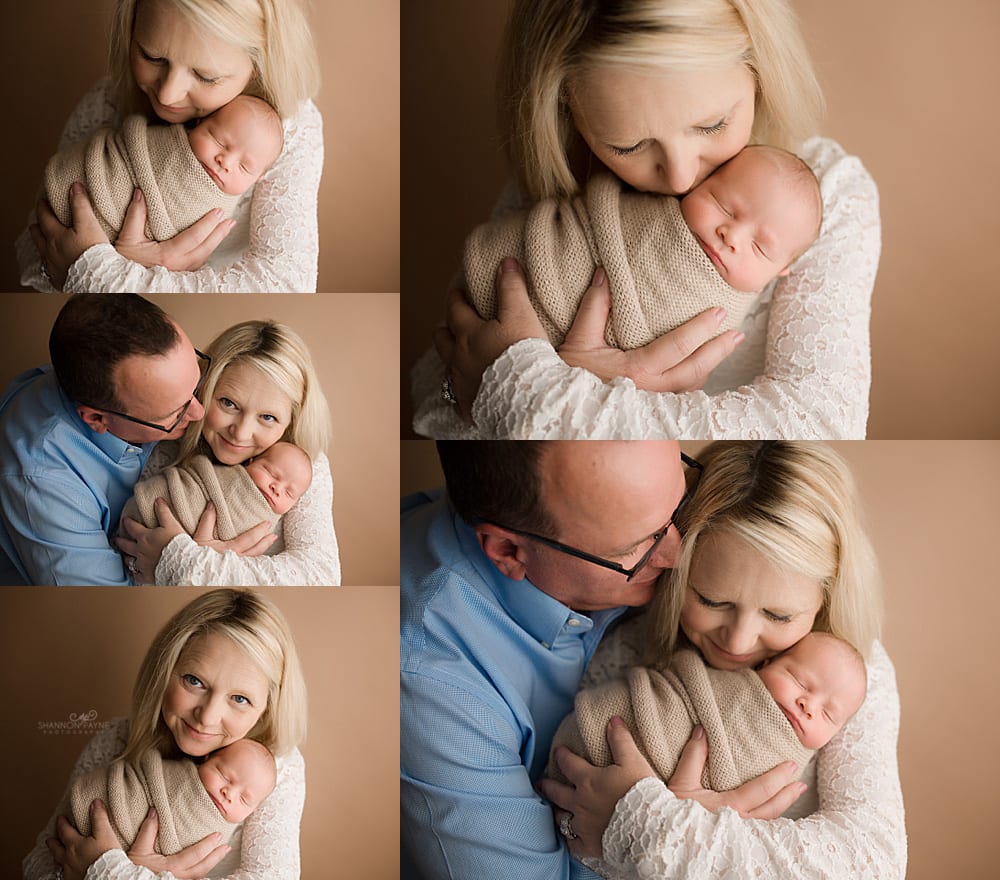 Newborn photos will be some of your most treasured photos. This is a stage in your life that you don't get to enjoy many times, and it FLIES by. I am honored each time a new parent trusts me with their tiniest blessing.
I am currently booking newborn due dates through January 2020. If you are due this fall or winter, I'd love to hear from you!