Studio Family Photos
When the weather gets cold, I move inside.  I love my cozy Hendersonville studio.  I have a lifestyle room setup with a bed for a clean look with a hint of boho.  It's a place where many babies seem to be most comfortable.  Big brothers and big sisters love bouncing on it.  And I LOVE photographing families snuggling on it.  Every now and then I run across a baby who is nervous taking photos or doesn't want to get out of mom's arms.  Separation anxiety is a real thing, and it usually kicks in around 8 months.  I know a LOT of tricks, but when a baby wants mommy, there is not much I can do.  If your little love is being extra clingy, I definitely recommend dressing for photos when coming to the studio.  It seems when babies make us work the hardest, we get some of the best photos.
I first met Claire for her sitter photos, and she came back a few months later for her first birthday photos.  This time around, she was a lot more aware of the new surroundings, and she was wanting some extra snuggles from mommy.  We played on the bed to make her comfortable, and mommy even got some kisses.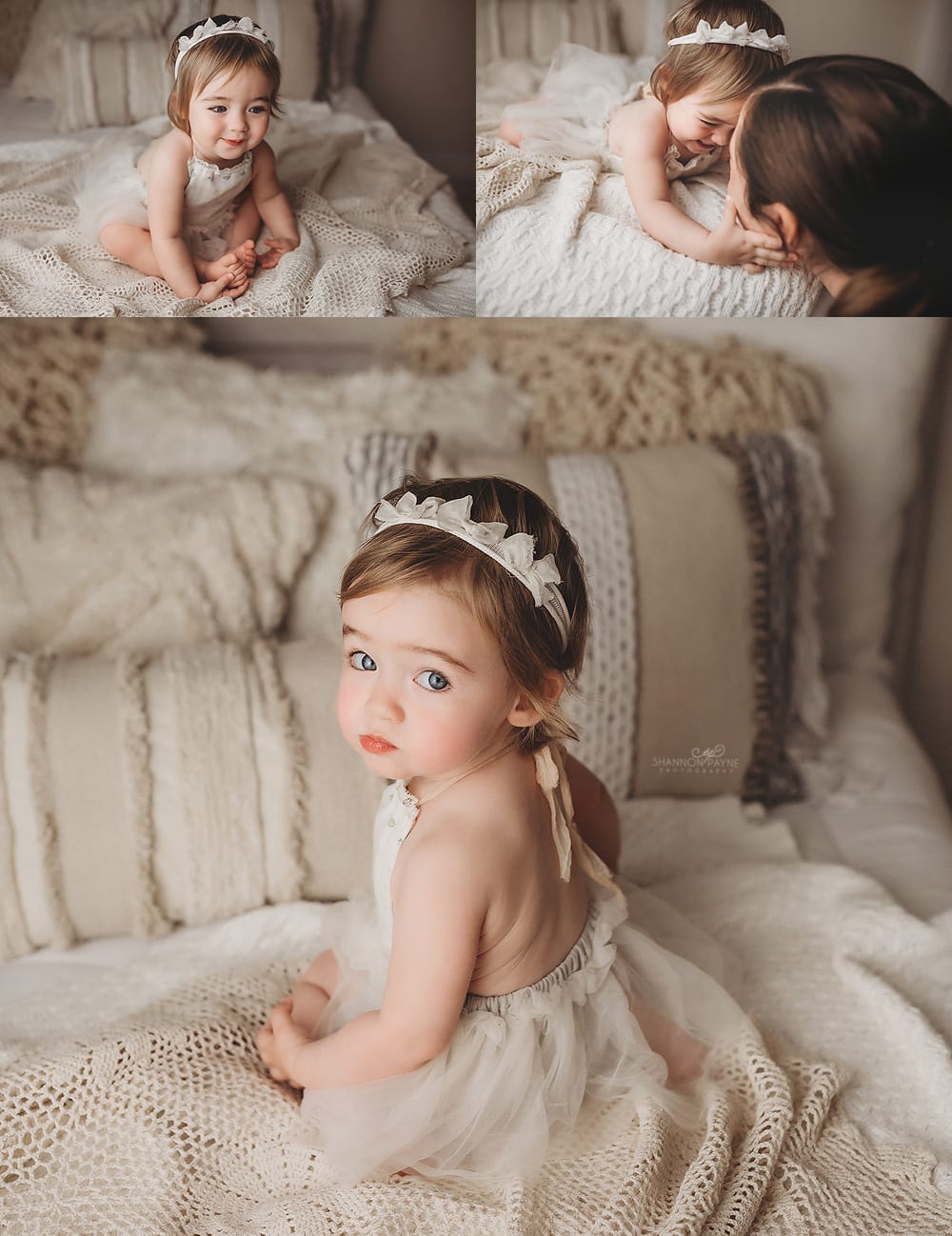 I love this Birthday Storyboard that we created for Claire's first birthday.  Notice how she needed mom and dad in there with her.  I think it makes her 1st birthday photos that much more special.  Her parents will always remember that she needed a little extra comfort from them.  There is nothing better than love from mommy and daddy when you are 1!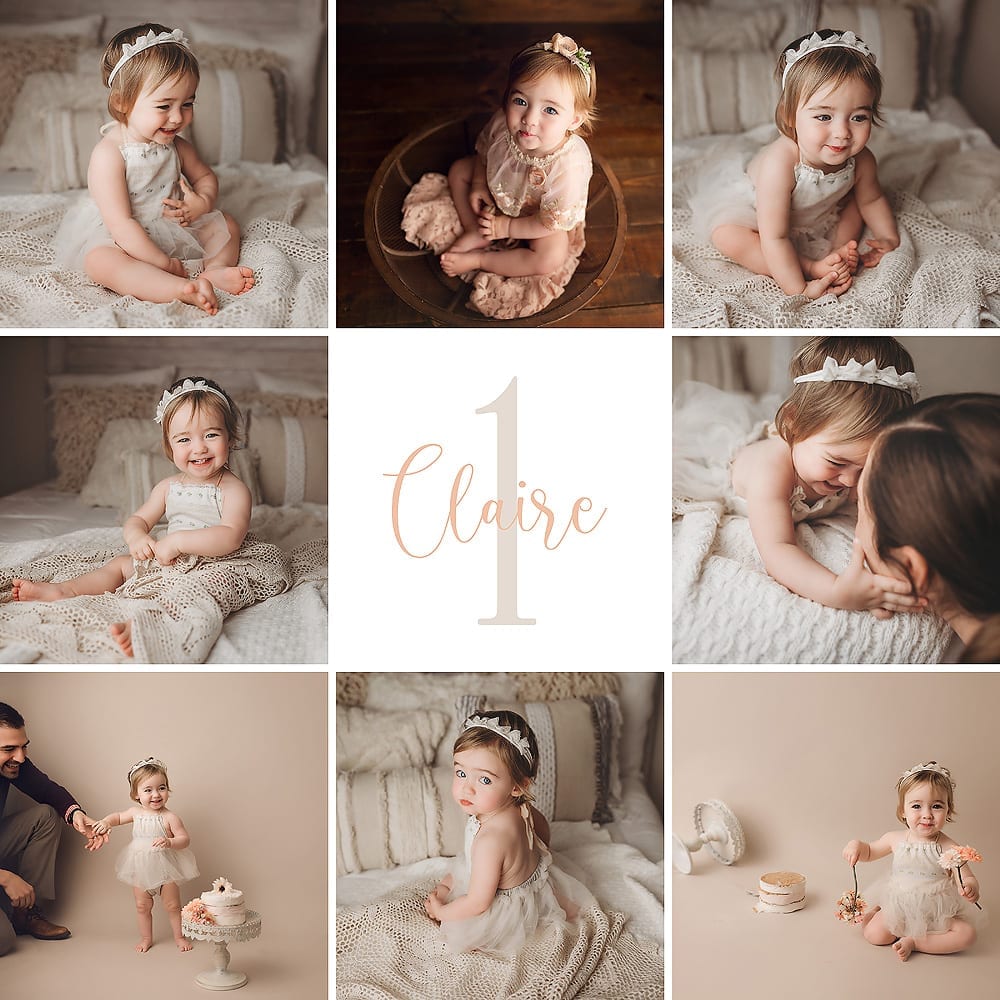 What to Wear
The most common question I get when planning photos at the studio is "What do we wear?"  The studio bed is white and cream, so neutral colors look great.  I also love clothing with different textures. Since the bed is white, you can add a pop of color with your clothing.  Grays, blues, pastels are all colors that look great.  I recommend choosing a color that coordinates with your home.  Since these photos are going to be displayed in frames and on your walls, we want them to look good with your decor.  Choose something comfortable and casual.  You may be laying down or having a baby climb all over you.  You don't want to look too dressy, or you will look out of place on the bed.  Don't worry about shoes, we will take them off and won't see your feet.  Mom's make sure you treat yourself to a manicure before photos.  We see hands a lot, and you want your nails looking their best!


Tell Your Story
I love capturing candid moments with your family.  Things you do to make your baby smile… baby's hands on your face… the looks you give each other…. They are all so special.  One of the great things about hiring a photographer is that we can show you your family from another perspective.  Little things that are ordinary to you, or things you don't think you'll miss until your baby gets older.  One day they won't fit in your lap, or they'll be too big to play airplane.  Every moment and stage is worth preserving.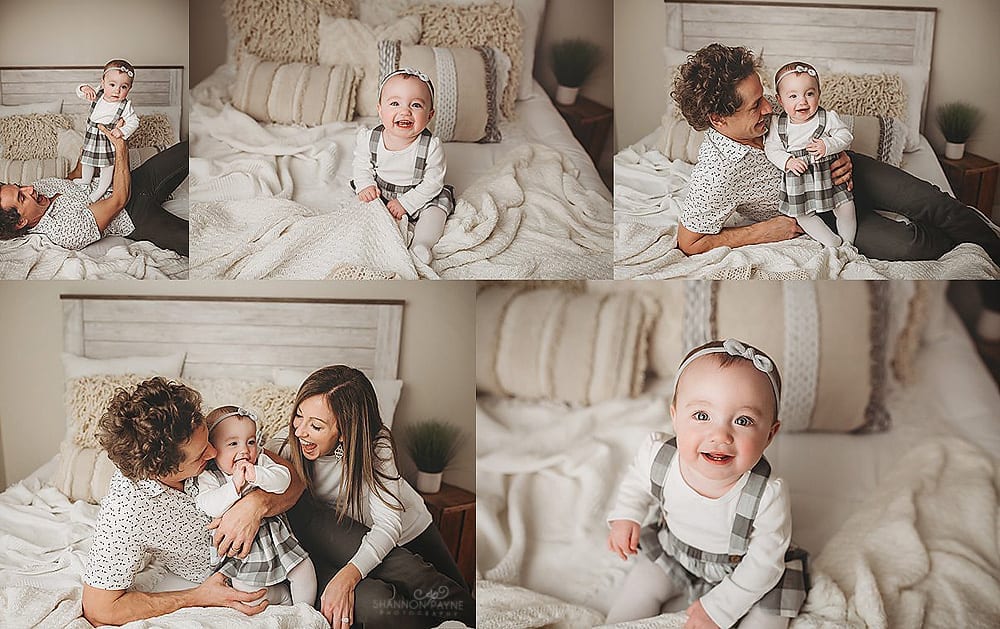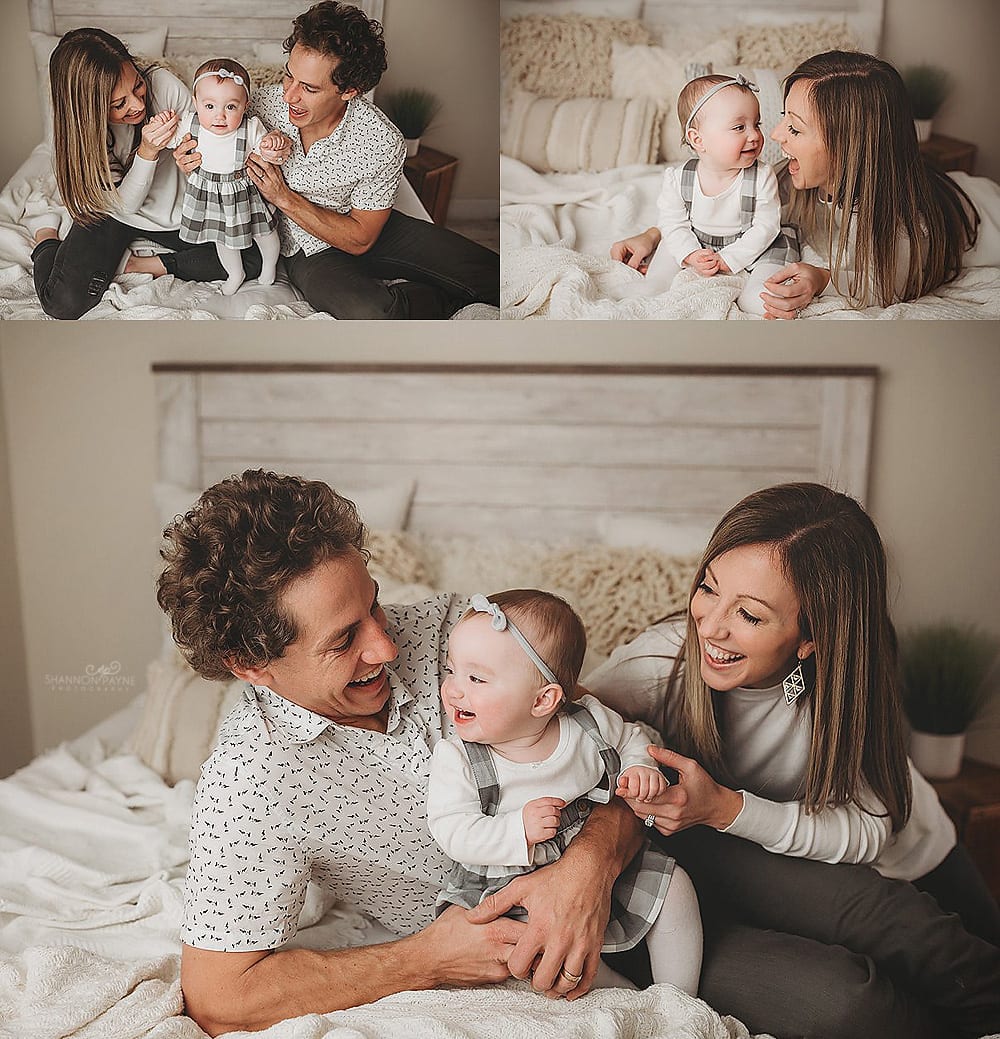 All of my baby milestone packages take place at the studio. The Classic and Deluxe Studio Milestone packages both include the option for family photos.  Some babies need extra love and snuggles from parents during photo time, and the lifestyle room is a great place to capture all of your love!