Studio Reopening and Cleaning Policies
Studio Reopening
I am so excited to announce that we have a reopening date!  I just spoke to the Hendersonville Mayor who confirmed with the governor's office that I may reopen with retailers.  This means that I will be able to schedule studio and outdoor appointments beginning on April 29th.  We will be following the Tennessee Pledge for reopening that has been issued by the governor.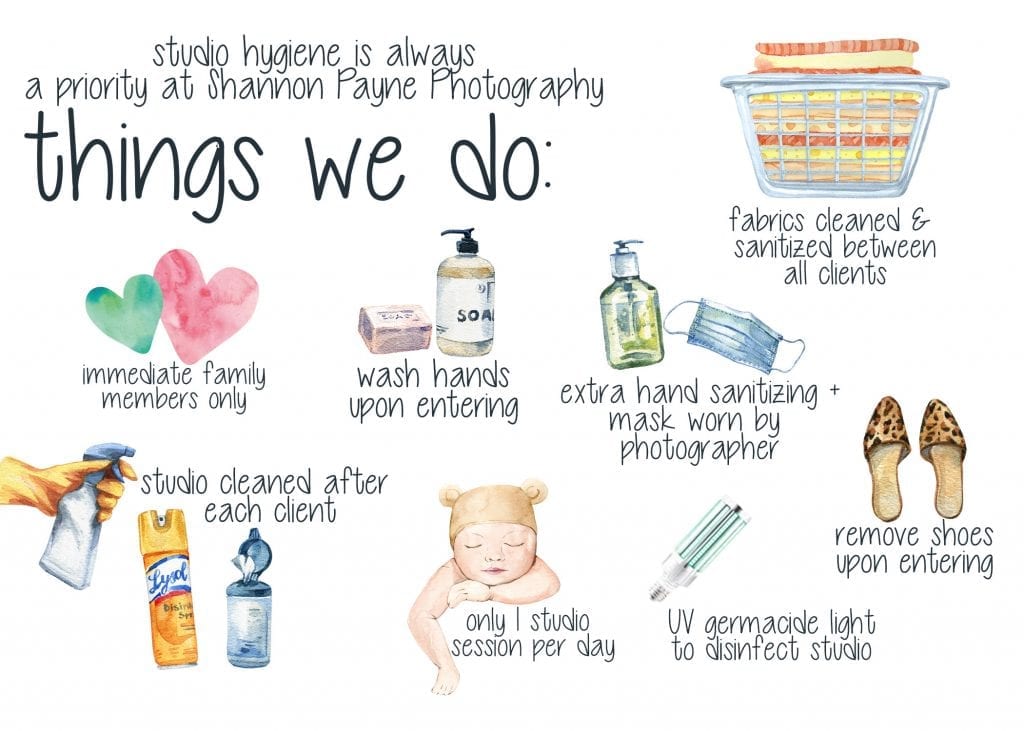 As we all know, our health and safety has been a priority the last few months due to COVID-19.  Since I am a newborn photographer, cleaning policies have always been a priority at SPP.  I wanted to review our studio sick policy as well as the cleaning standards that I have always used and new ones that I have added.
Safety and Cleaning Policies Currently Used:
Clean studio in between clients: I have always cleaned floors and surfaces after clients.  I will be doing this even more as well as focusing on frequently touched surfaces like door handles.
Fabrics washed and sanitized after each baby:  Every fabric, wrap, blanket that a baby touches is washed.  I am adding UV light sanitization for items that can not go in the washing machine.
Regular hand washing and sanitizing:  I have always washed my hands and used hand sanitizer before handling a baby.  I now ask that clients wash hands upon arriving at the studio as well.
Sick Policy: If baby or someone in your family has a fever, I ask that you reschedule.  This has always been a policy, but also an unspoken rule.  Obviously a sick baby is not in a good mood, so I always encourage parents to reschedule when baby isn't feeling good.  I am now extending that to family members coming to the studio.  Please contact me to reschedule if you or a family member have had a fever or any symptoms such as coughing in the past 24-48 hours.
Extra Precautions Implemented Due to COVID-19:
Only 1 client scheduled in the studio per day:  I have always photographed 1 newborn per day, but sometimes would have several milestone sessions scheduled per day.  Now I will be allowing 24-48 hours between clients.
Mask worn by photographer for all studio sessions.  It is recommended that parents wear a mask when they are not having their photos taken.  Cloth masks and bandanas are ok.
Immediate family members only: I know this is going to be a difficult one.  I usually request grandparents helping with older siblings.  However, this just puts too many extra bodies in the studio.  Only immediate family members that live in your home will be allowed in the studio.
Things I ask of you as you enter the studio: Wash hands, remove shoes in the newborn room, wear as mask if you have one available.