What to Wear for Family Photos
You've booked your family photo session, and now it's time to choose your clothing.  If you have a family of 3, that's 3 complete outfits.  Family of 4? 4 outfits.  Family of 6? SIX outfits!  You get the point.  Here are some tips on what to wear for family photos.
This is my family at one of our favorite vacation spots, Destin.  We have years of beach pictures on our walls, but this is the first year that I hired a photographer for our pictures.  We won't get into how "happy" my boys were about me scheduling pictures while on vacay…  Beyond getting my kids ready for pictures and dragging them AND my husband there, choosing our outfits is definitely the most stressful part about family pictures.  Here are 3 of my best tips to choosing great coordinating outfits.
#1. Choose an inspiration piece.
My #1 biggest piece of advice for EVERY family session is to choose an inspiration piece first.  That is one outfit, dress, or shirt that you will use to pull everything else together.  It should be your favorite of all the outfits.  You want to love it!  This can be a pattern or color.  Then use the color or colors in this piece to choose every other family member's outfit.
Can you guess the inspiration piece for our family pictures?  If you guessed my dress, you are right!  I LOVE maxi dresses for moms and daughters at photo sessions.  Why?  Well, they give photos movement and add interest to your pictures.  They also cover up your legs.  (Not that I don't want to see your legs!)  But if you sit down in a short dress, you have to sit a very specific way, and it limits my angles for photographing you.  I also find, that we are always pulling down a short dress.  With a maxi dress, you don't have this problem.  Some of my absolute favorite vendors for maxi dresses are Forever 21, Free People, and Vici.  If you can find a great inspiration piece, all of the other outfits will fall into place easily.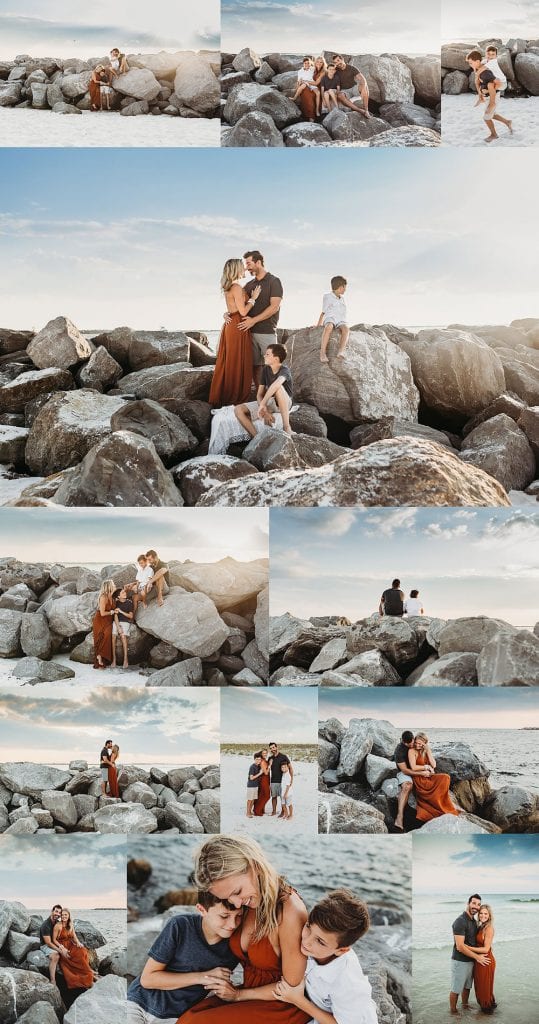 #2. Choose coordinating colors and tones.
Since we have so many beach pictures already, I wanted to do something a little different at the beach.  My most important request was using the jetties.  I love how the rocks give a different vibe to the pictures.  Usually when you think beach pictures, you thing of pastel colors.  Think colors that you see in a sunset.  But we've been there, done that. I wanted something different.  When I found this rust colored dress from Forever 21, I knew it was perfect.  I wore my favorite OMI bracelets with white and gray beads.  So I chose those shades for my boys' and husband's shirts and shorts.  I knew they would complement the rocks beautifully.  Notice how nobody matches.  The key to a great family picture wardrobe is coordinating, NOT matching.
One more piece of advice while we are on the color subject.  Keep the colors of your home in mind when planning outfits.  You are going to want to display these pictures in your home, and you want them to look good with your home's color palette.  This is one reason why I love neutrals for pictures.  They look great everywhere.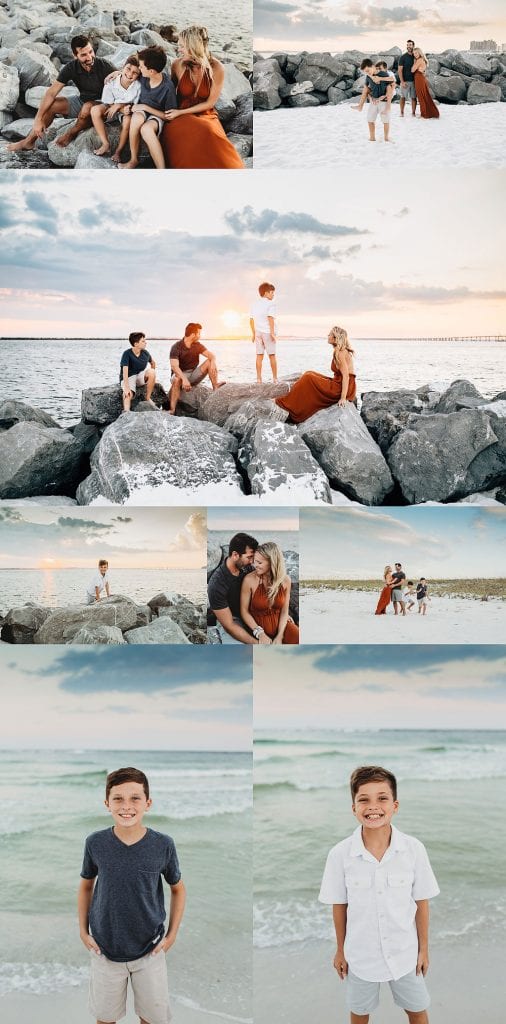 #3. Don't overthink it.
If your family is anything like mine, they are going to moving around. A LOT.  You want everyone to be comfortable with what they are wearing.  You definitely don't want fights over wardrobes when you are getting out of the car.  My go to for my boys is a pair of simple khaki shorts.  This year we did khaki and gray.  And the best part of pictures at the beach??? We didn't have to worry about shoes!  Remember, once the stress of choosing the outfits and getting everyone ready is over, you want to relax and love on your family.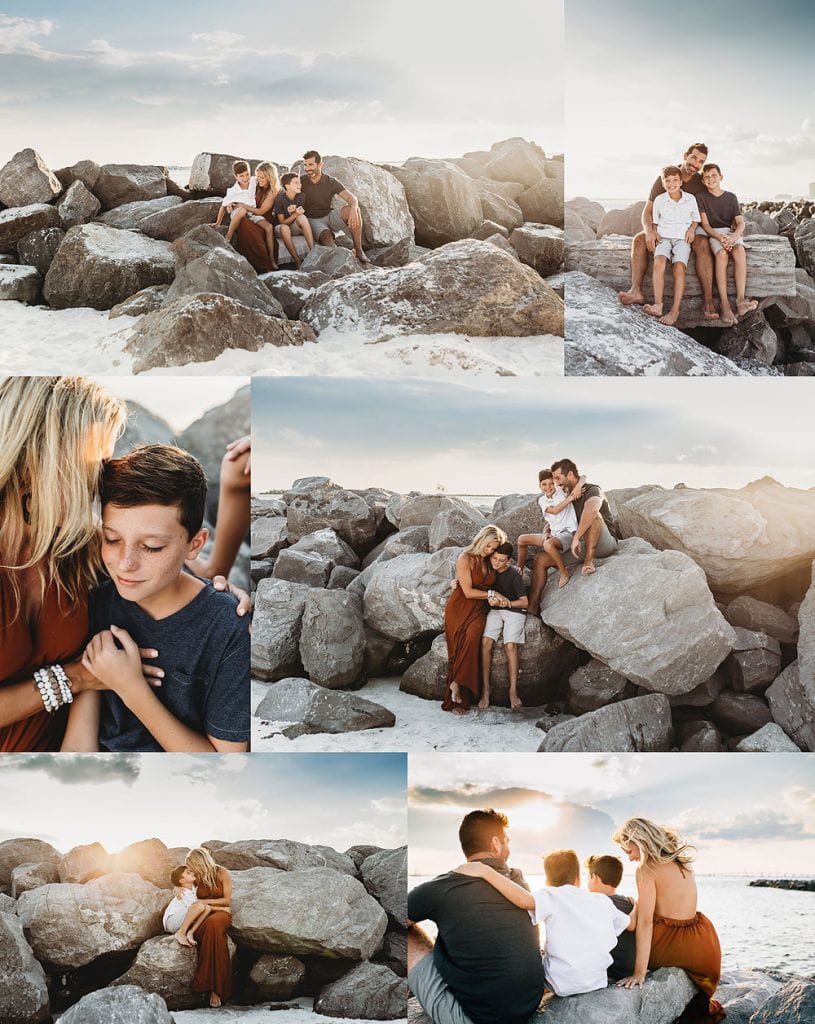 I hope this helps you wrangle in some ideas on what to wear for family pictures.  For more ideas, visit my What to Wear board on Pinterest.  Some of my favorite places to find clothing for boys is Old Navy and H & M.  These are also great for girls, but also check out Bailey's Blossoms and Zara.  As always, feel free to email me with pictures if you need any help.  I love this stuff!
HUGE thank you to Heather Clark Photography for these beautiful pictures of my family.