Lifestyle Newborn Photo Shoot
Most of my newborn photo shoots take place at my Hendersonville studio.  However, I love visiting client's homes for lifestyle photos.  Beau's lifestyle newborn photo shoot took place in his family's beautiful new home.  We focused on his big sister checking him out, and their family as a new family of four.  This photo shoot was even more special because I photographed his sister's newborn photos at their home as well.
Baby's Nursery
Beau's nursery was clean, simple, and full of beautiful light.  His mom's main request was getting a picture of big sis looking in on him in his crib.  This was the first thing we did, and boy did she make these photos special.  This was Beau's first time in the crib (We ALL know babies spend their first few months in our bedrooms and those nurseries stay clean and unused!), so she was naturally curious.  Then we got a little stool so she could see him even better, and she was SO excited!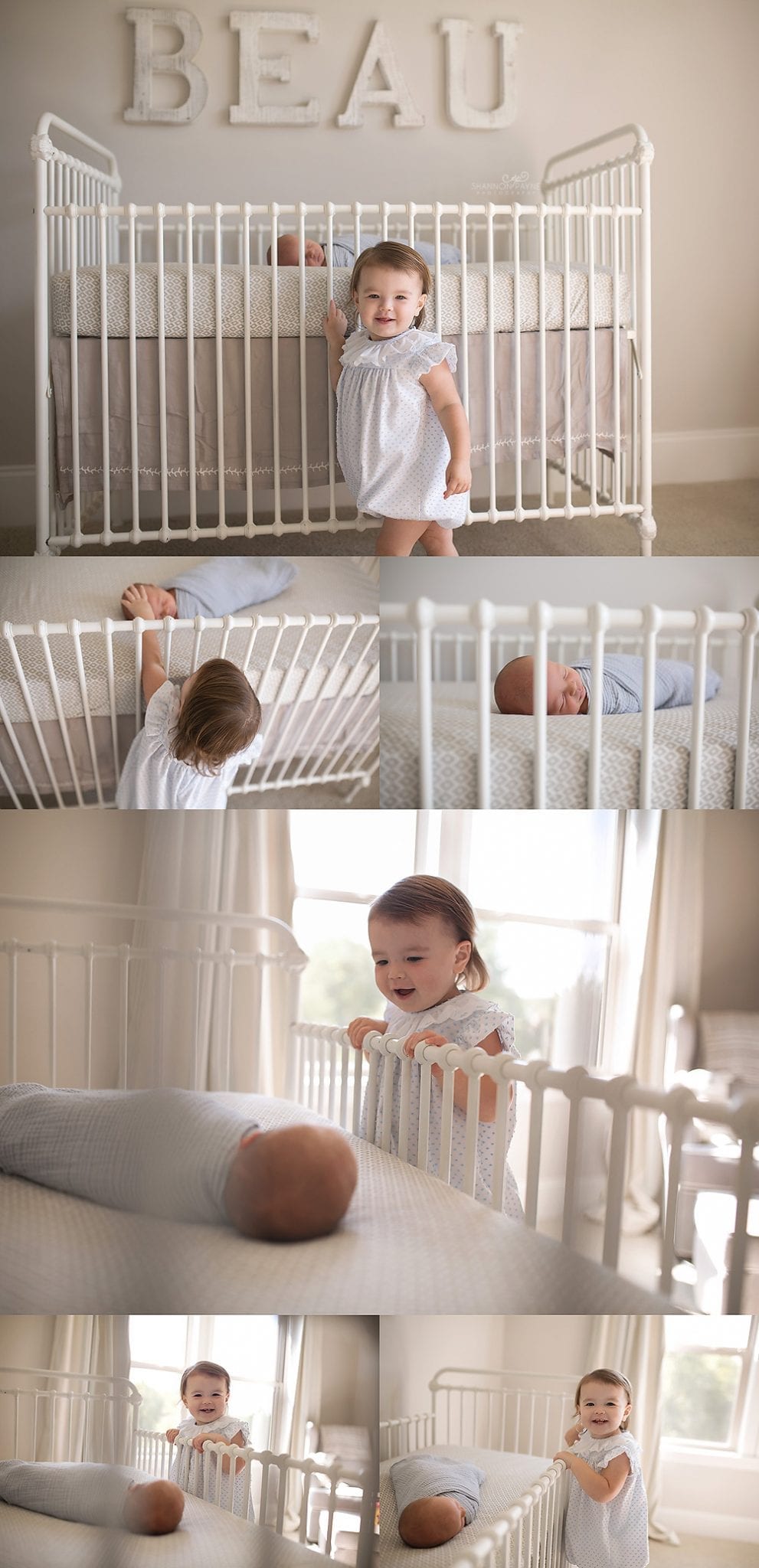 Newborn Family Photos
Then we went into mom and dad's room.  This is another popular location for a lifestyle newborn photo shoot.  We used mom and dad's bed at big sisters newborn photo shoot as well.  Look at how proud she is!
A common question that I get for lifestyle photography is "What do we wear?"  For lifestyle photos, you need to plan to dress head to toe.  (Unlike studio newborn photography where photos are only taken waist up.)  I recommend dressing in simple clothing in neutral colors or colors that coordinate with your home.  I say neutrals because you really can't go wrong.  I like simple clothing for your lifestyle newborn photo shoot because I want your family to stand out.  I want the focus to be on your connection and not your clothing.  You can get more ideas on what photographs well by visiting my What to Wear board on Pinterest.

Are you expecting a new baby and considering lifestyle or studio newborn photography?  Read more about the difference in these types of photos by visiting my Studio vs. Lifestyle Newborn Photography blog post.  Click on the Contact tab to connect, and we will discuss your next photo session.