Winter Studio Family Photos
As I type this, I am listening to freezing rain hit my office windows.  It is cold outside!  One of my favorite things about winter is having families join me indoors for winter studio family photos.  It may be cold, cloudy, rainy, or gloomy outdoors, but it is always warm at the studio.  The lifestyle room at the studio is designed for snuggling with your family.  There is something about a bed that makes babies and toddlers warm-up, and kids of all ages love bouncing on it.  This year has been different than most because babies aren't getting out of the house as much as they used to do.  When my babies were little, we'd go to Target just to walk around and keep busy.  I'd grab my Starbucks, and the boys and I would walk around the toy aisle.  But, this is the year of the quarantine… So new spaces are intimidating to babies.  I have been recommending that parents join in for milestone sessions.  The separation anxiety has been in full force this year!  Mom and dad's comforting arms can make it all better.
Client Wardrobe Closet
I have been building a client wardrobe closet for several years now.  This started with outfits for babies and became a huge hit.  I very rarely have parents bring in outfits for babies because they are so excited to look through my wardrobe.  I have sizes 3 months – 24 months just for milestone photos.  In the fall I started stocking dresses for big sisters.  I now have long beautiful dresses for big sisters in sizes 2-5.  The girls love looking at dresses and choosing their favorites.  They feel like princesses!  These have all been so popular that now I am adding dresses for moms too.  I just got in a big shipment of dresses for mommies.  These are all outfits and colors that photograph beautifully and cohesively at the studio.  I am so excited to offer this service to my clients.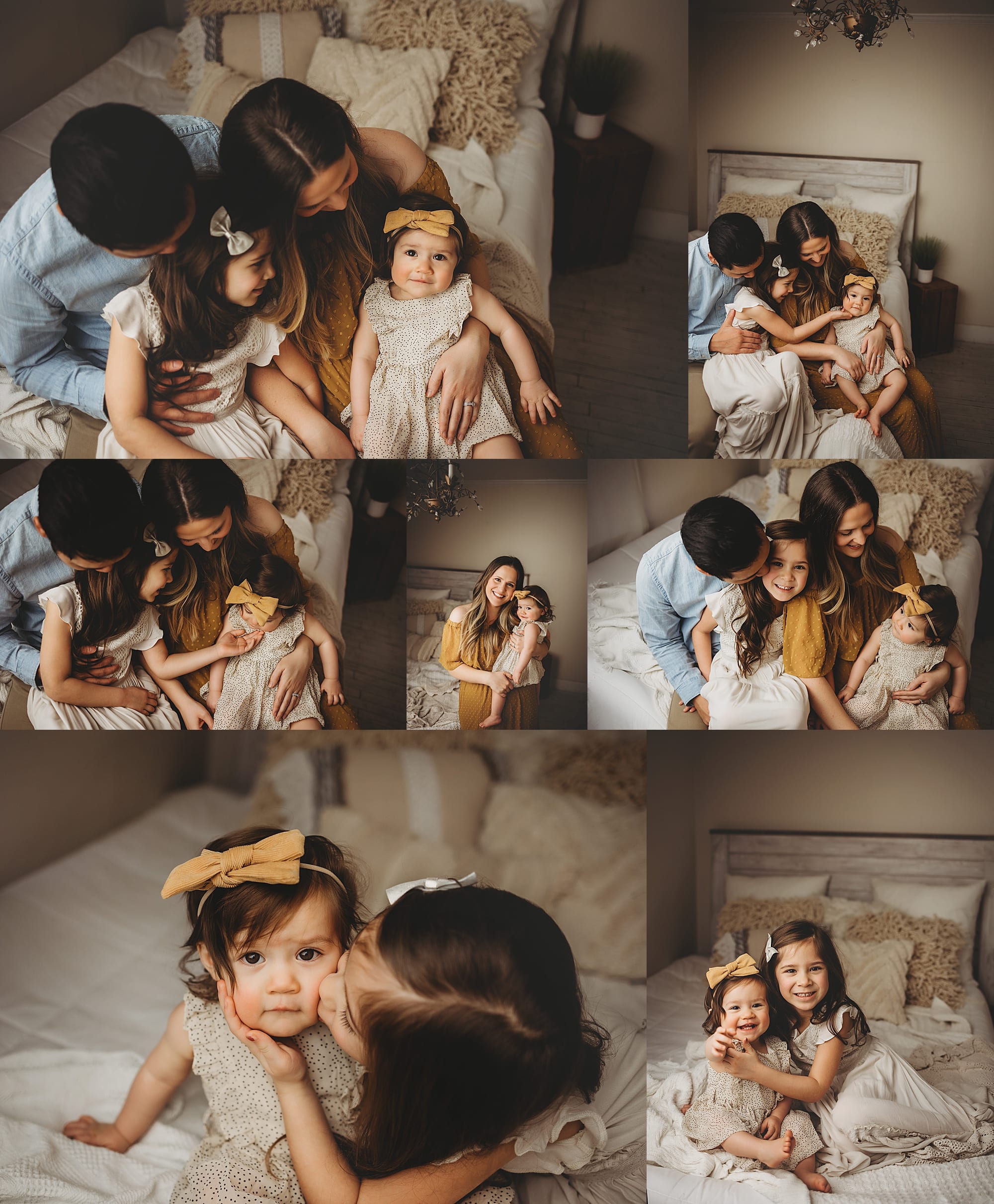 Focus on Your Family
Now that we have taken the stress out of what to wear, you can focus on your family.  That IS what family photos are all about, right?  If you've worked with me before, you've probably heard me say "Don't look at the camera."  I never want the focus of a session to be the camera.  I want you to focus on your family.  Snuggle your kiddos, give them kisses, show me their tickle spots, sing your favorite song…  All of these little moments capture you being YOU.  I live for moments like these.  Coming from a momma of a 14 and 11-year-old, I know they pass all too quickly.
Plan Your Family Photos
Are you ready to plan your family's photos?  I'd love to hear from you!  Make sure you visit our Contact Page so we can plan your family's next photo session.