What to Wear for Maternity Photos
Your guide to preparing for a beautiful maternity photo session.
You've booked your maternity session and now you are wondering what to wear for maternity photos.  This should be a really fun time!  The last thing you want to do is stress about clothing.  You are anticipating the birth of a new life.  Your new baby.  It's his or her first photo shoot, and these are pictures you will cherish for the rest of your lives.  It is also one of the last times that all of the attention will be on you.  We all know, once baby arrives, he or she is the star of the show!
When you are shopping for your maternity gown, you want to remember that you will be a little larger at the time of the photo session.  I recommend scheduling maternity photos around weeks 28-34.  If this is your first baby, you will want to use the later end of this range.  If this is not your first pregnancy, you may want to go with the earlier end of this range.  Most women tend to have a beautiful, round baby bump around these weeks.  You should be feeling good and comfortable.  All of the sickness from early on in your pregnancy has passed, and we want to capture this time before you start slowing down at the end of your pregnancy.  I've been there.  Those last weeks got rough!  I started to swell and had to go to the bathroom every 5 minutes.  (We want to schedule you before this happens!)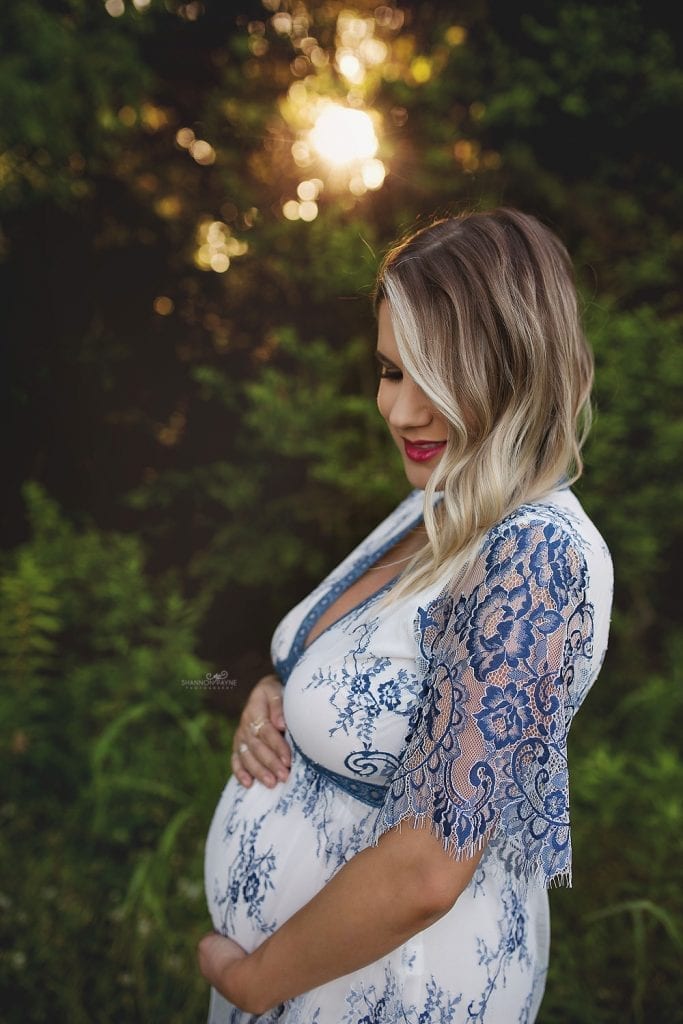 What to Wear for Maternity Photos
I recommend a long maxi dress or gown for maternity photos.  Maternity gowns seem to be all the trend right now, but besides being trendy, they truly photograph beautifully.  They flatter every woman's body, add movement to photos, cover just enough, and allow for multiple poses and positions.  During my sessions, we walk to different areas and sit or lay down.  Gowns are perfect for all of this movement.  I especially love them for sitting and laying because they prevent us from showing too much leg.  Short dresses pull up so easily, and I feel like we are always adjusting them.  Maxi dresses and gowns are also very forgiving to a mommy's growing body.  So if you buy it at 24 weeks, it should still fit by 30.  Many maxi dresses are flexible enough that you don't even have to purchase a maternity size.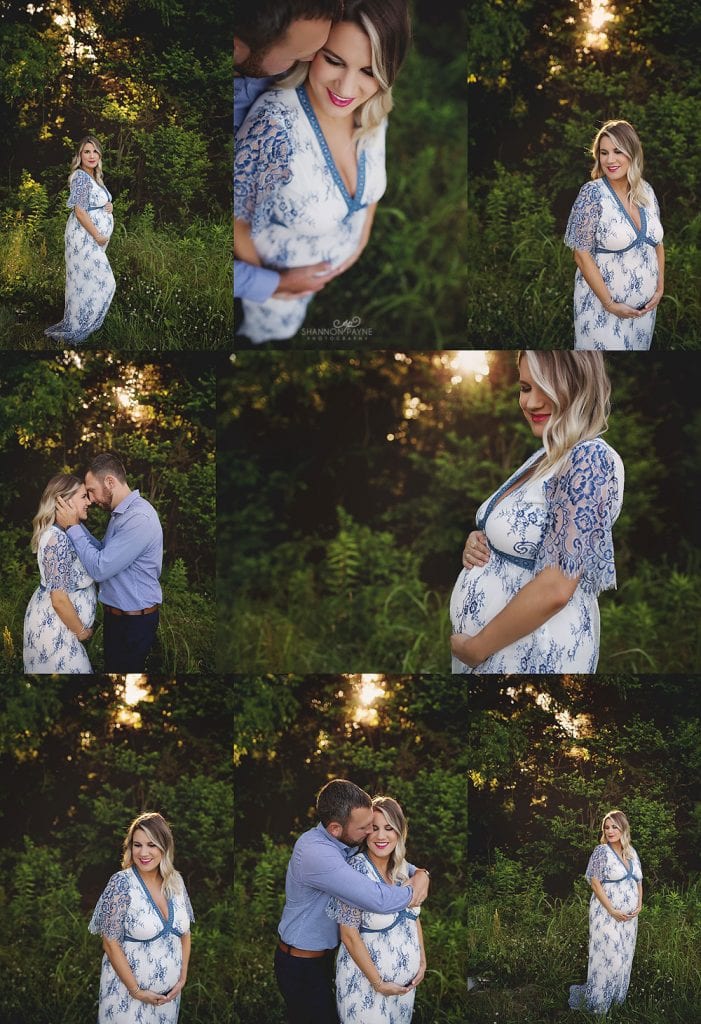 Where to Purchase Maternity Gowns
When you book your maternity session, we will discuss clothing and locations.  I invite all of my clients to send me pictures of the outfits they are considering.  I am always happy to help.  You can visit my What to Wear for Maternity Photos guide on Pinterest.  It gives you a good idea of the look of the dresses that I think photograph best.  Some of my favorite vendors are Pink Blush Maternity, ASOS Maternity, and Free People.  You can also find beautiful gowns on Etsy by searching "maternity gowns".  What I like about regular maxi dresses is that you can rewear it for other occasions rather than just wearing it at your maternity photo session.  I caution you on cheap gowns on Amazon.  (No offense Amazon.  I'm a Prime member. I would rather shop there than at a store.  But… when it comes to clothing, many "gown" vendors are very cheap quality and fit poorly.)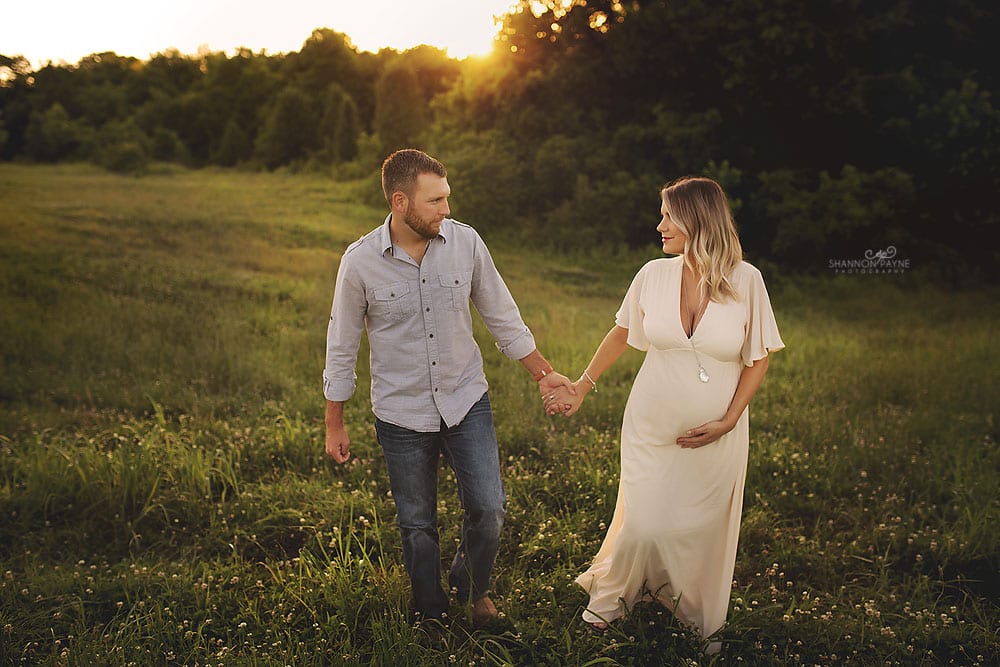 Dressing Your Spouse and Family
I love a casual look to my pictures.  A huge majority of my photo sessions take place in fields where we are basically hiking.  You want to be able to move, walk, and sit.  If you have children, you want to be able to carry them.  When deciding what to wear for maternity photos, you also need to consider clothing for the whole family.  Blue jeans and a casual button down shirt are great options for men.  For colors, you want to coordinate rather than match.  Use your dress as the inspiration piece and base everyone else off of that.  I suggest laying all of the option together on a bed for the floor to see how they look side by side.  I will even take pictures with my phone of different combinations to see what works best.  A well coordinated family photographs beautifully.  Your clothing choices for your maternity session can make a huge impact such as this beautiful family's maternity session.  It is one of my all time favorites.  Mom used her dress as the inspiration piece and pulled colors from it to dress the rest of the family.  The floral crowns were the perfect accessory to pull everything together.

A Few Other Reminders
Although your clothing will probably be your main focus when preparing for your maternity session, there are a few other important things to remember.  Have your nails painted one to two days before your session.  We will see your hands on your belly a lot, and a well manicured hand will stand out beautifully.  Treat yourself to professional hair and makeup.  Professionals are great at knowing the right amount of color to stand out in photos.  They know how to contour so that you feel your most beautiful.  They are great at making sure your hair lasts through the photos too!  And last but not least, accessorize.  You don't have to have a huge necklace or tons of jewelry, but a few simple bracelets or an accent necklace will pull everything together.  Make sure you visit our Maternity Gallery to get more ideas on what to wear for maternity photos.
I hope these tips help you prepare for your photos a little easier.  Remember, this should not be a stressful time.  I am always here to help, so feel free to email me anytime with questions.